Fifteen minutes before I met the original founder and drummer from the Canadian 80's superstar band, "Glass Tiger", via skype, I listened to him sing his solo version of "Hallelujah", and I felt as though I was experiencing a spiritual revelation hearing the voice of an angel. Best recognized for their hit songs, "Don't Forget Me (When I'm Gone)", and "Someday", they won 5 Juno Awards, were nominated for a Grammy, and had celebrated multi-platinum record sales globally. The faction toured with artists including Journey and Tina Turner….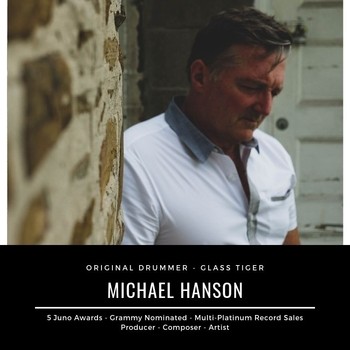 As a solo artist Hanson is about to unveil his debut album entitled, "Kilimanjaro", but has already released several singles including, "The Girl That Love Forgot", a plea to raise awareness for mental health and in 2013 had penned an anti-bullying anthem, called "If You think I'm A Joke." The multi-instrumentalist has become one of Canada's most popular songwriters and producers, and is known as one of the most exclusive "chorus hook-writers", using his own record label, "Radar Love Records" and his supreme talent as a platform to help rising artists rise, as well as established icons.
I had an intimate conversation with Michael covering his past and present careers. He was not only a blast to talk to, but a warm, humble and appreciative human being…..
So Michael what are you currently doing now projects wise?
The main thing on the docket right now which has my full attention is a song called "Señorita Nightingale." It's a duet I did with this young unknown artist. Her name is Ray, and she plays with a band called, "The Universe Featuring Ray." She's really cool, very bohemian. She sort of marches to the beat of her own drum. She is very unique looking and sounding, and is doing some great stuff that I produced. But before she left the studio, I had a guy call me saying he had a lyric for me. He asked me to write a song around it. It was called "Señorita Nightingale." I took this song, but I really thought it was kind of a goofy lyric. He was going to pay me to do this so I thought I would just throw together a song for him. When I did, it just sprang to life. Ray was in the studio one day and I asked her to sing this song which was a little out of character for her. Her stuff is very indie/eclectic and this is not. This is a powerful, cajun, rock/country song. I decided to have her sing it and we wound up doing a duet. So now we are sitting on this song, and it's extraordinary. We will shoot the video in about three weeks. I think this song is a game changer. We are going to do a real, world class video on this one.
Then?
I'm putting together my record, "Kilimanjaro", and that single will appear on the record. It's going to be a 10 song record. Right now I'm about 3 quarters through. "The Girl That Love Forgot" is still out there and it's raising money actually for two different charities. Every time you buy it from Apple Music half of the publishing goes to "The Soldiers Memorial Hospital", in Orillia, Ontario. They are using the money for beds for incoming patents with mental health issues. The other half goes to the Ontario Shores Foundation who also deals with mental health patients. Other than that, I am not currently playing live but I am looking forward to starting to tour. I'm also working with a band called "Drop Top Alibi" who just won iHeart Radio's 97.7 HTZ FM Contest. The same one that "The Glorious Sons" won. The lead singer is Brandon Gregory and they have a killer original rock song called , "Summer Nights and City Lights." That will probably come out prior to October. We are looking forward to that as well as other artists I am producing under the Radar Love Records" umbrella.
You have one of the best voices that I've ever heard.
Wow, that means an awful lot to me. Obviously when you are a drummer it's hard to get yourself known, but I did. Alan and I became the front face of the band. I would sing the lead in all my bands. When "Glass Tiger" came along I recognized that Alan Frew was a really tremendous lead singer and we wanted a front presence, so I passed on singing. Obviously, I had to get back into it.
How did you originally come to get involved with "Glass Tiger?"
I was playing in a band called "The End." After "The End" ended I was looking for a band to put together. I was in grade 13, which I don't think you have in the US, and I knew there was a local band called "Onyx." Alan Frew was the lead singer, Wayne Parker was our bass player, Alan Connelly was our guitar player. At some point I called up Alan and told him that my band had just fallen apart. The reason it fell apart was because I had to fire my best friend. His name is Jimmy Cooper and I love Jimmy, but I just didn't feel like he was holding up his end in the band. I really wanted the band to grow. We are still best friends to this day. I called "Onyx" because they had just broken up too. I knew Alan Frew was really great, so I thought I'd have to give up singing but I'm gaining a great lead singer upfront. He was a really an established guy with a really great voice, still to this day. So we met and formed a band called "Tokyo." We did some originals and tried to get a record deal. Mostly we played teen dances. We would be out in the van hanging up posters. We would conduct our own dances kind of like the Beatles did in the 60s when they would go to Blackpool. We had a great time doing that and we started to develop our chops. Then we started playing more seriously and finally one day we ended up getting a gig through a guy named Gary Pring who was a Toronto manager. He had a group called the "Kings" who did really well. So he got us a gig with Boy George and Culture Club. We had nothing on the radio and only a few original songs to speak of. We found ourselves on stage in front of 14,000 people playing a support act for one gig with Boy George and Culture Club at Maple Leaf Gardens in Toronto.
Wow!
It was mind boggling for us being that young and being on the stage like that. I was so scared I just switched to auto pilot. I think I woke up at the end of the set, 40 minutes later. Lo and behold Capitol Records was attending the gig and through that another manager Derrek Sutton, who was the manager for Styx came on board. We also had Randy Phillips, the LA partner of Gary who was Rod Stewart's manager. All of these guys came together and we ended up signing with Capitol Records. In the United States we were on the Manhattan label which was a subsidiary of Capitol. We went gold in the US and released 4 or 5 singles here in Canada. All of them shot up to the top 20 and a few of them went to number one and number two. Then for three or four years I could not leave the house without being spotted.
What was that like, was it fun or annoying?
It was like being Paul McCartney. It was just the best. I would go out on the weekend and try and sit in a restaurant and have lunch. I remembered having lunch at this restaurant in the mall. I bought a pair of sunglasses and a baseball cap and by the time lunch was done I had ripped my entire newspaper to shreds and was signing stuff for people. So I really couldn't go anywhere or do anything without being recognized. There was a period especially of three years when, "Don't Forget Me" came out and it was like Canada got hit with a meteor the size of Texas. It went straight to number one.
It was huge in the US as well.
Yeah. We were the Duran Duran of Canada. Alan and I particularly had our own individual fan clubs. I had a bodyguard as well for the live gigs. His job was to keep the girls away from us. Literally our audience was all girls. In Gage Park they actually covered our van with lipstick. We couldn't see through the windows. They all rushed to the van and some girl ripped my shirt and a piece of my hair and when we got to the van they started shaking the van. We almost tipped. Our driver Joe had to escape and on his way, he ran over a girl and broke her leg. About an hour later we were in our hotel room and a couple of girls got hurt climbing three stories up some vines to try and get in our window. It was like that everywhere we went. There was a gig in some school where there was a massive glass window. It must've been 30 feet high and 100 feet long. I remember a few hours before the gig all I was doing was walking in an open space. I had to go from one pillar to the next. In that 15 feet of space I stopped for a second because I heard a thunderous noise. It sounded like a jet airplane. It was literally a sea of fans that was shoving against the window and the whole hundred foot window was ready to explode. It was bending in and they were pounding on it and screaming so I had to get the hell out of there in a hurry. It was like the movie "A Hard Days Night."
So your lives were actually in danger?
Yeah. I was just a hockey player. First, I wanted to be a psychologist which is odd because I need one now. I wanted to play hockey, but I had been playing drums since I was five. I learned to play guitar when I was 11. I learn to play piano when I was 15. I arrange things for pop music. Obviously, I'm a producer and songwriter, and that's my main gig now. It has been since the day I left school. I was studying to be a computer programmer at Seneca College in Toronto. I remember coming home and saying to my parents that I can either be a programmer or I can be in a rock band that's doing very well. I told them I wanted to stick it out with the rock band. My parents were supportive because they wanted me to do what made me happy. Obviously, it went well. So, the second record "Diamond Sun" came out and we maintained our popularity through 1988/89. Then when we were touring with "Journey" I met my sons mother. She was a California model. She was in the audience and I just had to meet her. She turned out to be Zack's mom and my wife for a couple of years.
For a couple of years?
Yeah, that was my record. My whole life was chasing women. That's all I can remember. From one end of United States to the other and oversees all I cared about was women. I didn't smoke, I didn't drink, I didn't do drugs….. I just have an appreciation and complete and utter amazement and love for the opposite sex. I don't know what it is. It's always been that way with me. "The force runs strong in this one."
For more information check out Radar Love Records at https://www.RadarLoveRecords.com
"Hallelujah" by Michael Hanson: