The first few bars of Damoyee Janai's "Independent" are undisputedly swaggering, and it's all because of the strutting bass that greets us at the genesis of the track. It's a little bit effervescent, totally swinging, and the perfect canvas for Janai to paint us an imagistic lyrical picture atop just moments into the song. Her voice stings with melancholy, but there's nothing depressing about what she's saying – quite the opposite, actually. She's empowered here, ready to take on the world, and conveying a message of self-reliance that is rather appropriate for the tone she's looking to create in her forthcoming album (which, I might add, is the third that she's released since turning thirteen some six years ago).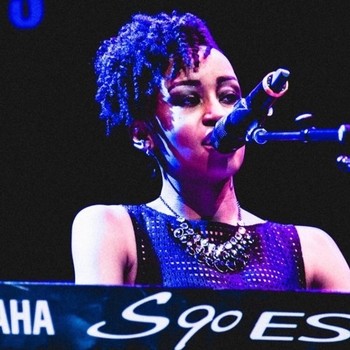 URL: https://www.damoyeejanai.com/
A gentle percussive thrust wanders through the backdrop as if it's searching for a friendly face to invite it in from the cold hard rain of low-end tonality washing over it via the bassline. We descend into the guts of the single, and as the next minute of the track commences, the tempo kicks into gear and Janai leads a jazzy orchestra through an infectious pop hook that will get stuck in your head after only a cursory listen. There's lot of moxie in her attitude, plenty of pickup in the strings, but there's also a sense of reflection in the tone of her lyrics that makes everything we're hearing sound all the more motivational. If Janai's goal was to reestablish herself as a fully-matured poet and sorcerer of serenades in "Independent," she definitely hit the mark that she was gunning for.
An electric guitar slashes through the discharge of melodic ribbonry and brings a little heat into the mix before giving the vocal track the wheel once more, but at this point in the song, nothing is distracting us from the smoking songcraft that Janai is creating with nothing more than a microphone in her hand. She could be belting out the directions on the back of a bake at home pizza box and still sound like a soulful songstress capable of getting just about anything she wants with her gorgeous pipes, but luckily for us, she doesn't placate her audience with any trite metaphors or silly platitudes in "Independent;" she's singing from the heart in this single, and demonstrating just how unafraid of being vulnerable with listeners she really is.
SOUNDCLOUD: https://soundcloud.com/damoyee-janai
Much in the same way that it starts, "Independent" reaches an end with one final entwinement of the bass and Janai's vocal, suddenly disappearing into the darkness from which it first arose but nevertheless leaving a void in the air that it once occupied. I've been keeping tabs on Damoyee Janai for a little while now, and as I expected, her new single is even better than her last two were (something that's becoming a trend in everything that she stamps her name on). "Independent" challenges her to expand upon the blueprint set forth in the release of her last studio album, and if it's a taste of what the next LP she records will sound like, then she's going to be in for a lot more publicity as the year carries on.
Gwen Waggoner
The music of DAMOYEE JANAI has been heard all over the world due to the radio plugging services offered by Musik and Film Records. Learn more – https://musikandfilm.com