"When the moon is beaming, starlight streaming / Right here / You call my name" whispers a voice as startlingly beautiful as it is evocative in the "Patrik Kambo Radio Edit" of "Call My Name," one of the more elaborate mixes of the new song from unabashedly experimental alternative crew ooberfuse which was released this summer to widespread adulation from critics in the UK and abroad. The synthesized melody is sprinkled into a robotic rhythm that demands movement out of anyone it can sonically reach, but it's never capable of overtaking the striking gorgeousness of this lead vocal. Call My Name is the most flexibly framed composition that I've heard this season, and it definitely gets one heck of a workout in these five virtuosic remixes.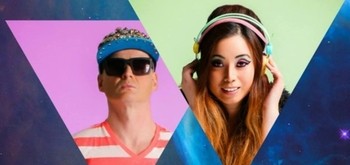 URL: https://www.ooberfuse.com/
Ooberfuse's new record wasn't designed for electronica worshipers exclusively – in the "Hal St John Radio Edit," slivers of understated alternative rock tonality slip through the cracks and replace the artificial construct of the synths, giving this version of the song a slightly rebellious, punky quality that the other tracks just can't compete with. The "Push The Frequency Festival Mix" comes pretty close to surpassing the latter's dexterous string arrangement with its own eccentric instrumental structure, and I actually think that it acts as a pretty good middle ground between the extreme mixes here and those that are more subtle in tone. Ooberfuse have a vast range of skills, and they're putting all of them to use in this EP without coming across as self-serving in the least.
"The Noise" remix of "Call My Name" is a real boundary-pusher on this record, and I myself would have preferred to hear it broken into two separate tracks. The bass is ultra-heavy here, while the vocal is probably at its most brittle, which creates a conflict in the main harmony of the chorus that is at once both haunting and seemingly fragmented. The "Paul Kennedy Radio Edit," which can be found on the EP and in the music video for "Call My Name," couldn't be any more of an aesthetical polar opposite if it tried, but the two don't make for odd bedfellows in this tracklist. Once again, ooberfuse are showing us that you don't have to make a mixtape around a single hook, but instead around a concept that no one else is brave enough to try.
Like the colorful but scattered smiles that we see in the music video for ooberfuse's latest single, there are no two identical moments to behold in Call My Name, and while this indie duo's American rivals have been more than content to chase the retro-stylized sounds of a bygone era in electronica, these British electro-balladists are doing the exact opposite and sounding like creative geniuses in the process. Ooberfuse have more work to be done if their intention is to take the mainstream pop world by storm, but as far as the European underground goes, I don't know that there is a single active band or soloist today making the surreal variety of alternative music that these two are.
Gwen Waggoner