2019 has been a landmark year for EDM artists around the planet, but the recently-released "I Don't Want Nobody," a collaborative single from Italy's 3Angle and Alton, is definitely setting the standard for the scene that birthed it. 3Angle employ ice cold synths while Alton takes up the microphone with his warm, eclectic verses, which despite circling us like a predatory beast are definitely the most existential aspect of this track. Whether you've been following the Italian indie beat lately or not, you're going to need to give this song a listen if you want to stay a credible music connoisseur.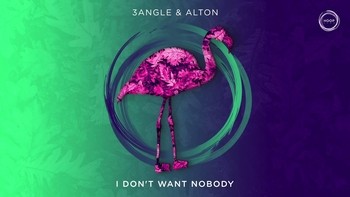 While it's not the most potent element to behold in "I Don't Want Nobody," Alton's vocal is still a very haunting addition to an already searing synth instrumental. I definitely like the fact that he didn't lean on any over the top theatrics in his execution; too often this season, I've heard excellent singles that had all the right melodic components but inevitably fell short of superstardom because of a bloated lead vocal. That's not a problem here, and it actually hasn't been much of an issue in any of the tracks that 3Angle have recorded in collaboration with other artists.
The synthesizer is a little overpowering about two minutes into "I Don't Want Nobody," but it's an excusable offense for one critical reason – without its harshness at this particular juncture of the song, the cathartic finish wouldn't be even half as climactic as it is in this variation of the composition. There's a method to 3Angle's madness, and while most of us will never be able to figure out their precise formula for making such extraordinary beats, it would be criminal to equate their work with anything that their major label peers have been turning out in the late 2010s.
BEATPORT: http://classic.beatport.com/track/i-dont-want-nobody-extended-mix-original-mix/11833503
This track isn't as bass-heavy as I would have liked it to be, but I can appreciate the decision on the group's part to keep it rather streamlined in this scenario. "I Don't Want Nobody" is probably going to be remixed and remade into a variety of different incarnations by DJs and electronica producers in Italy and the United States this summer, and by making it as elasticized as they did, this song is a prime candidate for continuous airplay no matter where it finds an audience this August. That's nothing to scoff at, even in the upper ranks of the underground that 3Angle are ruling over.
I wasn't very familiar with the collective works of 3Angle or Alton prior to hearing "I Don't Want Nobody," but they have made a believer out of me with this awesome addition to their shared discography. This music isn't as avant-garde as most of the European electronica that's been making waves in America recently has been, but it's obviously a lot more experimental than anything we've heard on the domestic front this month. I'm eager to see what these four musicians do in the future, and once you hear this single for yourself, I think you will be too.
Gwen Waggoner