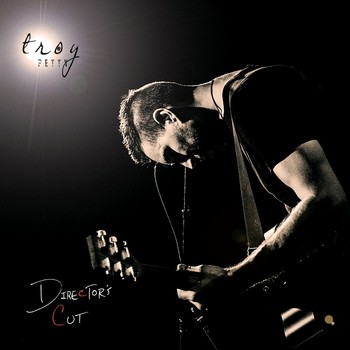 One picks up traces of the band Interpol, and their primary influence, Joy Division, on Troy Petty's moody, dark album, Director's Cut. In Hollywood, the term "director's cut" usually refers to a movie presented exactly how the director wants it. It's oftentimes longer than the regular theatrical version, which has likely been edited down to better fit into movie theater schedules. Therefore, one is led to expect this album to be the presumable unedited thoughts and feelings of Troy Petty. And it it.
Petty's producer for this album is Ken Coomer, a Nashville drummer and producer. As might be expected from someone that calls Nashville home, much of Coomer's work leans toward the Americana side of the musical spectrum. In fact, he was the last drummer for the influential alt.country band Uncle Tupelo, and then played drums for that band's offshoot act, Wilco. His association with acts like Steve Earle, Emmylou Harris and Malcolm Holcombe won't really prepare you for the music created for Director's Cut, however.
This album's title cut is a pained piano ballad. Petty sounds so forlorn while singing it that it sounds closer to the sort of music David Bowie and Iggy Pop made during their 70s Berlin sojourn. Ironically or not, Director's Cut's record label is Dachshund Records, a German label.
There's an urgency to Petty's music that is palpable. One track, simply titled "First," is built upon a driving acoustic guitar rhythm. Petty's voice on it – as well as with other tracks on the album – makes him sound like he's in a world of hurt. He never sounds like he's whining or complaining. However, words like 'joyful' and 'happy' never come to mind when listening to these ten tracks.
Some of the sounds on the album are striking. For instance, "Love & Television" includes a truly ominous, woozy and disorienting guitar sound. It feels a little like the sonic metal group Korn applies to many of its songs. Petty's voice is too smooth to ever be confused with metal. Nevertheless, this musical backing is as awkward as it is effective.
"Untitled" is another acoustic guitar-backed track. The recording is stark, with Petty sounding far away. It's slightly orchestrated. It's also a track that would sound amazing with a full orchestra. Not that it's bad the way it is; it just suggests more orchestration in this format. With "Rebel Bones," Petty's performance builds and builds, to epic proportions. It features electric guitar, Petty's quivering lead vocals and is a tense arrangement.
The album ends with "Lifelong," which is a quiet and sad track. It features Petty singing over a heartbreaking acoustic piano part. In places on this song, Petty sounds a bit like Depeche Mode does, when they strip away all the synthesized filigree.
Director's Cut is not any sort of happy ending Hollywood movie of an album. It's much closer to a tragic foreign art film, instead. It may be a little painful when taken as a whole, but Troy Petty pulls no punches. You just have to respect a guy for being so transparent. You're left with the impression that this was an album Petty needed to make because of things he needed to say. It's an admirably honest effort.
https://www.instagram.com/troypettymusic/
-Dan MacIntosh