A pulsating synth's percussive wallop slowly comes churning into focus as we take in the first few seconds of "Tailwhip," the second track in the 11-song opus that is Woongi's all-new album Rip's Cuts, currently out everywhere that independent music is sold and streamed. Bearing a relentless, electropop rhythm and flanking its signature synthesizer with a dropkicking drumbeat, "Tailwhip" is only a taste of what listeners can expect to find throughout Rip's Cuts, and in many ways its dynamic construction and evocative but strange surrealism serves as some of the plainest material you'll come in contact with in the record.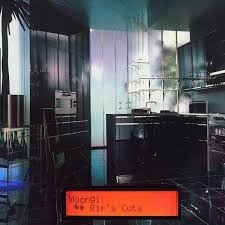 The instruments tend to be the main focus in these songs, but there's still plenty of vocal virtuosity to be appreciated here. "Rare Bird," "Tailwhip," "Antiques," "Not Sad Sequence" and the stellar "Tired Fortress" boast some of the most pointed lyricism that Woongi has ever offered us, while the harmony between the voice of our lead singer and the glittery grooves in the backdrop is the primary focus in "Fire's Dead," one of the record's featured singles. It's a good balance of sweet serenades and pragmatic experimentations, and there's never a sense of compromise or restraint in any of the music that we hear (in a good way).
"Sad Sequence," the gothic "Terry's Cottage" and "Green M&Ms" have an electronic edge to them, but they don't sound particularly artificial in tone. Woongi are all about their organic musicality and adherence to old school punk values, and that translates in their work seamlessly. You could make the argument that some of the tracks here are a little abstract in nature, but I think that's exactly what the band was going for. They don't just want us to absorb the tension in "Tired Fortress" via the ascending bassline, but through the artfully composed inelasticity of its drums and jarring shifts in tempo as well.
SPOTIFY: https://open.spotify.com/album/7MGbtuylPDQwQ4w9zXcHwx
There's a progressive nuance to this tracklist, with each song spilling into the next as if they were apart of some larger medley or are actually mere pieces of an extended jam conceived live on stage. The first time that I listened to Rip's Cuts, I didn't realize it when "Rare Bird" suddenly became "Tailwhip;" this record has such a wonderful fluidity that the transition felt exceptionally muted and without any sort of rigidity, which is always a positive thing. This makes Woongi's latest LP a killer listen for introspective late nights and long drives through the wilderness especially.
If you've been searching for an evocative and cerebral addition to your spring soundtrack, this is an album that I would highly recommend you take a look at. Rip's Cuts slashes through the mundane framework of mainstream music and embraces the eccentricities of post-punk, noise rock and synth pop in an epically melodic melting pot of textures and tonality. There's not a stitch of filler to be skipped over, nor is there an underlying sense of commerciality in the music – there is only Woongi and their endless waves of sonic discord soaked in opulent harmonies. This is a must-listen for experimental fans, and moreover, anyone who digs an anti-establishment beat.
Gwen Waggoner