"Like a girl" used to be a negative comparison. If you "ran like a girl" or "threw like a girl," it was a sign of weakness or fragility, and not nearly as good as the way a man could do it. However, Brooke Moriber is here to change that sentiment with her song "Cry Like A Girl," making an old analogy a proclamation of empowerment and perseverance.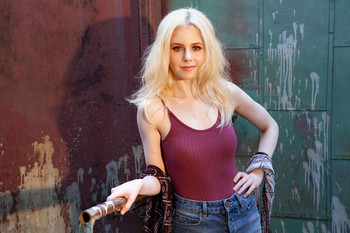 No one would have expected that an audition for Les Misérables when Moriber was eight years old would turn into a life-long career. By age 15, she had original music licensed to Nickelodeon and had tracks on various network television and movie soundtracks. The ability to juggle an acting and musical career was impressive to those around her and even praised by The New York Times. In addition to acting on stage, film, and TV, her band has played popular New York venues like Rockwood Music Hall, The Cutting Room, and Mercury Lounge, as well some LA and Nashville venues like The Listening Room, Genghis Cohen, and Room 5.
Moriber traveled back and forth between New York and Nashville to record her debut album Cry Like A Girl. With the help of producer Fred Mollin, she fused components of pop, country, and rock to create a sound that's all her own, showcasing her "clarion voice" with "songs that are destined for high rotation" (The Associated Press). The album also features tracks mixed by five-time Grammy winner Chris Lord-Alge. Representing the best of modern pop music with an emotional connection and pyrotechnic vocals, she combines the vocal echoes of Celine Dion, Carrie Underwood, and Lady Gaga with the lyrical honesty of Billy Joel and Sara Bareilles.
In a society where showing any emotion is a sign of weakness for men, it is essential for men to come to terms with their feelings to "learn how to heal." "Cry Like A Girl" showcases a story relevant to everyone's life: a man who has too much pride to open up about his vulnerabilities is really just hurting on the inside. Moriber explains that the phrase "Cry Like A Girl" is "a statement about the strength that comes with embracing your emotions and allowing yourself to heal and grow."
Directed by Elizabeth Lippman, the video begins with Moriber standing strong and independent. It then flashes to childhood memories in which her male companion constantly denies any assistance and guidance from her. From childhood to adolescence to young adulthood, he spends years rejecting help. Eventually, the now-grown friend sits alone at a bar, drowning his self-pity in continuous shots of whiskey. Coming to the rescue is Moriber, who lends him her hand as she did many times in the past, but this time, he finally accepts.