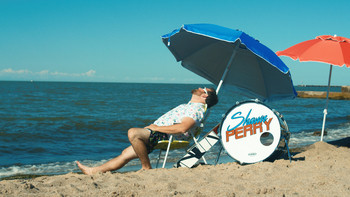 When you take a group of six degenerates from all over Arizona and put them under one roof, the results prove dangerous. After the dust settled from this eruption, out came DROPOUT KINGS. Today, the band kicks off a two week run of dates supporting Crazy Town on their 20th anniversary tour. The tour goes from May 16th in Ashland, OR through May 31st in Las Vegas, NV.
DROPOUT KINGS w/ Crazy Town:
May 16th – Ashland, OR @ Ashland Armory
May 18th – Spokane, WA @ The Pin
May 19th – Seattle, WA @ El Corazon
May 20th – Missoula, MT @ Monk's
May 21st – Idaho Falls, ID @ The Gem
May 22nd – Billings, MT @ Pub Station
May 23rd – Mandan, ND @ Rock Point
May 24th – Sioux Falls, SD @ Big's Sports Bar
May 25th – Racine, WI @ Route 20 Outhouse
May 26th – Kansas City, MO @ The Riot Room
May 27th – St. Louis, MO @ Fubar
May 28th – Des Moines, IA @ Lefty's Live Music
May 29th – Fort Collins, CO @ Hodi's Half Note
May 30th – Provo, UT @ Bill's Warehouse
Nerdist Premieres MC Lars & Mega Ran's Dystopian "1984" Video
The year 1984 might be remembered as the year that gave us Purple Rain and Ghostbusters, but the fictional 1984 of George Orwell's classic 1949 novel will always loom large in the popular consciousness. Especially as society begins to teeter more and more into the totalitarian extremism predicted in the book. And now Orwell's novel has inspired the track "1984" from nerdcore rappers MC Lars and Mega Ran, along with B. Dolan.
Tristen premieres new video on Rolling Stone
Rolling Stone Country premieres "Dream Within a Dream," the new video from Nashville-based pop savant Tristen. Crafted from Edgar Allan Poe's classic poem, Joseph Hudak with Rolling Stone says, "Tristen proves that a great song can come from any place – or any time…The results are both wildly inventive and irreverent, as Tristen coos and growls her way through Poe's words."
Tristen Sets Edgar Allan Poe's 'Dream Within a Dream' to Garage Rock
Their exclusive whole album stream just went up live on Alternative Press Magazine.
Lee Greenwood Performs at 107th First Lady's Luncheon
Lee Greenwood delivered another distinguished performance of 'God Bless The U.S.A.' Tuesday to over 1,8000 esteemed guests at the Washington Hilton's International Ballroom in Washington, D.C. at the 107th First Lady's Luncheon, honoring Mrs. Melania Trump and also celebrating Indiana's Hoosier Heartland. The event was presented by The Congressional Club Museum and Foundation, chaired by Jennifer Messer (R-IN) and co-chair Patti Garamendi (D-CA). Greenwood was joined by "The President's Own" United States Marine Corps Band, featuring Master Sergeant Kevin L. Bennear who performed the National Anthem.
Lee Greenwood Performs at 107th First Lady's Luncheon Honoring Mrs. Melania Trump And Celebrating Indiana's Hoosier Heartland In Washington, D.C.
Flower shares first new music in 29 years; touring with Sebadoh this month
Beloved NYC indie quartet Flower, which preceded Versus and features two of its members, is excited to share its first new music in 29 years. The two new tracks, "Names" and "Talk," premiered via BrooklynVegan, and will be available via a tour-exclusive flexi-disc on their upcoming run of dates supporting Sebadoh.
Trout Steak Revival Announces First Round of Summer 2019 Tour Dates
The Colorado based band, Trout Steak Revival has announced new tour dates for the Summer. The band will criss cross the country hitting notable festivals like Northwest String Summit, and Floyd Fest as well as playing several headlining shows including a performance at the Mishawaka Amphitheatre in Bellvue, Colorado.
Up to date news and tour information can be found at troutsteak.com
TROUT STEAK REVIVAL 2019 SPRING & SUMMER TOUR DATES
5/17 Bluegrass in the Bottoms, Kansas City, MO
5/18 Bluegrass in the Bottoms, Kansas City, MO
5/21 Barley's, Knoxville, TN
5/22 City Winery, Nashville, TN*
5/23 Steady Hand Beer Co., Atlanta, GA
5/24 The Crimson Moon, Dahlonega, GA
5/25 Papa Joe's Banjo-BQue, Evans, GA
5/31 Campout for the Cause, Buena Vista, CO
6/1 Belly Up, Aspen, CO**
6/26 Vail Bluegrass, Vail, CO***
7/4 Gilpin County Fairgrounds, Black Hawk, CO****
7/6 Mishawaka Amphitheatre, Bellevue, CO*****
7/10 Pine Creek Lodge, Livingston, MT******
7/12 Sandpoint Summerfest, Sandpoint, Idaho
7/19 Northwest String Summit, North Plains, OR
7/20 Northwest String Summit, North Plains, OR
7/27 Floyd Fest, Floyd, VA
7/28 Floyd Fest, Floyd, VA
8/17 Dockside, Ottawa, IL
8/18 Hoxeyville Music Festival, Wellston, MI
New Music: Award winning Swedish trio Deportees release their 'Re-Dreaming EP' today / featuring new track 'A Love Design'
While unknown outside of Sweden, the trio from Umeå, a remote city in the far north, have long been both a critical and commercial success back home. Their most recent album, 2015's The Big Sleep was awarded the Swedish Grammy for Best Rock Album, an award the band had also picked up for their previous long-player Islands & Shores.
Ava Rowland Premieres New Video "Exit Sign"
Modern country singer and songwriter Ava Rowland world premiered a new video today for "Exit Sign" on her YouTube channel [Click here to watch]. The song is the second single from Ava's 2018 EP, Polaroid Picture. The video features a live solo presentation of Ava with her guitar, showcasing her dynamic vocal abilities on a song that she holds very dear to her heart.
SHAWN PERRY Releases Official Music Video for "LAWNCHAIR"
Country Rock Musician SHAWN PERRY has released the official music video for his pop-infused single, "LAWNCHAIR."
In 2019 Shawn Perry and CRUE released their new single "Lawnchair" to critical and commercial acclaim. The song was recorded by Grammy winning producer Christian Davis at the Castle in Nashville and mastered by Grammy winner Maor Applebaum in Los Angeles. The song made its debut on the country charts in March 2019 and has been steadily climbing ever since. Lawnchair will be part of a new full length album scheduled for release in 2020
Indie-pop artist Marielle Kraft premieres new single, announces EP via GroundSounds
Indie-pop artist Marielle Kraft premiered her new single, "Better Without You," and announced the release of her new EP, The Deep End, via GroundSounds. The new single is the third from the upcoming EP, which she began writing after choosing to leave her career as a teacher to focus on music full time. In the premiere, Kraft shared the inspiration behind "Better Without You": "Do you ever want to call up your ex and say, "Hey look at all the amazing things I'm doing now that you're no longer in my life?" Is that too harsh? Instead of calling, I decided to write a song about it. Writing this song was a turning point for me. I had just moved back near Philly – back into the same environment and community I had established in college just 2 years ago – and the memories of my first deep, heartbreaking love flooded back to me. I wrote this song as a promise to myself that this time is going to be different here. Every day I'm going to be a better version of myself, this time on my own terms. It's a feel-good anthem for independence, self-care, growth, and pursuing new truths. For the first time, it's a 'breakup song' about me, not about my ex. It's not an 'I blame you,' but an 'I'm taking control of me.' And I think that's how it always should be."
Beauty in Chaos 'Drifting Away' features Robin Zander
"When you listen to this track in its new-found glory, you hear nothing from the pasts of any of the aforementioned artists… I find that extremely refreshing in that this is audible proof that true artists are continuingly growing and expanding. Instead, what you hear is a new and original piece of sonic bliss that captivates" – Jammerzine
First Listen: Beauty in Chaos – Drifting Away ft. Robin Zander & Michael Anthony (Synthetic Capricorn Mix)
ESTELLE RELEASES VIDEO FOR "LIGHTS OUT"
Directed by Estelle and Denzel Williams, the video was filmed in Australia and showcases Estelle in an intimate hotel room as she sings the song's flirty lyrics. Filmed with sensual lighting and a decadent aesthetic, the visual perfectly matches the songs smooth and erotic vibe.
Josephine Wiggs shares "We Fall" video via Brooklyn Vegan
While alt-rock icon Josephine Wiggs is best known as bassist in The Breeders, her new solo record We Fall is both a departure and a distillation of an enduring personal aesthetic: moody and spare but also melodic, at once contemporary and nostalgic. It's out this Friday May 17th 2019 on vinyl and digital via by The Sound of Sinners. Today Brooklyn Vegan shares Wiggs' colorful new video for the title track "We Fall," while Bandcamp does a deep dive with here for today's Bandcamp Daily.
888 Release Powerful New Single 'Pins & Needles'
Resting confidently within layers of synthesizers and demonstrative drums, Denver, Colorado based 888's Critical Mistakes EP and "Everybody Can't Complain" their latest full length album, rests a poignant and recurring message- "Don't give up." Throughout the course of the infectious Alternative-Electro sounding songs, road-tested frontman Danny Stillman repeatedly reaffirmed the significance and impact of staying the course. Regardless of life's accomplishments and catastrophes, the band, rounded out by (drummer) Danny Cooper, definitely accentuate the importance of continuing on. Critical Mistakes EP opening track and lead single "Critical Mistakes" professes "Come wake me up before I die and never get to live," before adding "let the tide wash away my critical mistakes". Unwilling to rest easy, 888 is consistently pushing forward and actively reaching for more.
Broods Share "Sucker" Video
"Sucker" is from Broods' third studio album released earlier this year and the album has gone on to amass over 40 million streams. Following release, PAPER Magazine featured "Sucker" in their "Bops Only" round-up and declared, "'Don't Feed The Pop Monster' features some of their shiniest melodies yet."
Swedish-Australian outfit Tiny Fighter present endearing Americana pop on 'Katrina'
Swedish-Australian indie pop outfit TINY FIGHTER presents 'Katrina', a heartfelt Americana-inspired ballad about personal strength and renewal in the face of challenge. The accompanying video was directed by Swedish photographer-producer Rikard Westman.
New Music This Week – Carly Rae Jepsen, the National, Rammstein, and More
New Releases for May 17, 2019.
Andy Mineo Releases New Music Video For "Keepin It Movin"Featuring Guvna B
Today, rapper Andy Mineo releases his new music video for "Keepin It Movin" featuring Guvna B on his YouTube channel. Directed and edited by Pete Wall (Light Media), the video captures scenes from Andy's 2018 European tour including the 2-hour challenge where Andy and Guvna B quickly recorded and shot the video for the song.
[NEW MUSIC] – JAMO RETURNS WITH DREAMY DANCE BANGER 'CONNECTION' FT. YOUNGSOUL
For the 21 year old producer JAMO, growing up with the coastal break beaches of Victoria quite literally in his backyard, music has become the channel to voice his uniquely Australian love of surf and sand. An extremely talented amateur surfer, JAMO applies this fearless and fun-loving nature to his multi instrumental live sets – willing to push the envelope and take risks to keeps audiences pitted.
HALSEY UNLEASHES NEW SINGLE AND VIDEO, "NIGHTMARE"
Carly Rae Jepsen Releases New Album "Dedicated" Today On Schoolboy/Interscope Records
Multi-platinum Grammy, Juno and Polaris Prize nominated singer/songwriter Carly Rae Jepsen releases her fourth album, Dedicated, today May 17th on Schoolboy/Interscope Records. Jepsen worked with a crew of trusted songwriters and producers, among them John Hill, Jack Antonoff, Captain Cuts, Patrik Berger, and her longtime collaborator Tavish Crowe, on Dedicated. Jepsen released "Party For One," the first track off Dedicated, in the fall of 2018 and leading up to her new album release gave fans a taste of what's to come with the songs "Now That I Found You," "No Drug Like Me," "Julien" and most recently "Too Much."
Madonna Releases "Future" Featuring Quavo and Co-Produced with Diplo
Madonna today released "Future" featuring Quavo and co-produced with Diplo. With electronic-tinged Jamaican dancehall vibes, "Future" is the fourth track of five songs to be previewed before her highly-anticipated new studio album Madame X debuts globally on June 14. Following the release of the critically-acclaimed "Medellín," the empowering "I Rise," and the infectious pop gem "Crave," the next song to be shared with fans is the sonically innovative "Dark Ballet" on June 7.
South-African indie-poppers Diamond Thug explore the deepest shades of blue on new single      
Formed in a basement in Kommetjie, a small surf town on the southern tip of Africa, Diamond Thug combine Sub-Saharan rhythms with indie pop dreamscapes, with a vitality and energy bursting from the seams of each track that becomes juxtaposed with melancholic themes.
SINEZAMIA New Single 'Fingere di essere' From Forthcoming Album
It is a concept that has deep roots in human history, investigated by various thinkers over the centuries, in various forms of science and art. Today the doubt is even more marked, in an era in which the digitalization and the virtual relationships have modified, if not replaced, the rules of social life. What we live therefore is reality or a great illusion? Fingere di essere questions on this doubt, especially regarding human relations; it does not give answers because what we tell is true or false?
New music: The Modern Strangers release bewitching new single 'Magic Hour' out today through Hoolay Records
The brand new track comes hot on the heels of touring the UK in support of Flor for the second time and supporting All Twins at Oslo last night. Produced by Gordon Mills Jr.
Stealth drops contemplative video for new single 'Bury Me'
Exciting British singer-songwriter Stealth has released the reflective video for his new single 'Bury Me', out now on Ultra Music.
DāM-FunK > New EP 'STFU II' + 'Hood Biz' Video > Out Today > listen here
Just glyde with "The Flow" in a "compos mentis" state of mind, while handling "Hood Biz", as U "Inhale, Exhale", traveling "Deeper" into places like "Ladera Heights" + similar enclaves… worldwide and "On Code".
LANA DEL REY RELEASES COVER OF SUBLIME'S 'DOIN' TIME'
Today, Lana Del Rey released a cover of Sublime's "Doin' Time". The song was produced by Andrew Watt and will be featured in the upcoming documentary "Sublime" that outlines the history of the iconic California band.
NEW SINGLE – RuthAnne Stuns On 'Superman'