A pure sense of joy runs through the whole of Macaco's "Bailo La Pena". Full of a sunny optimism, the whole of the track stuns with its positive energy. Lyrics focus upon overcoming sadness to embrace the grand celebration that is life. Rooted within a deep tradition of pop, the song has a nimbleness to it. Such color filters into the entirety of the mix with a lilting melody that perfectly meshes with the bouncing laid-back beat. By far the highlight of the track comes from Macaco's lyricism, as he explores the very heart of happiness. Like he explores, happiness can be such a simple thing yet it gets obscured with so many wants and desires.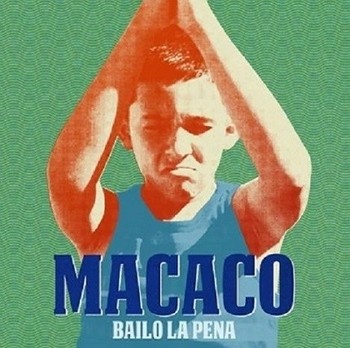 The piece is a pure summer anthem. Incorporating layer upon layer of sound, Macaco draws from a party spirit, letting the worries of life slowly melt away. Embracing a generous mixture of Latin music and rumba, the track simply washes over the listener. Choosing such a grand variety of styles and placing them into the mix further gives the track an all-encompassing immersive experience. Highlighting the togetherness and community that can change a life, the whole of the track has a beautiful cinematic spirit to it. Allowing a bit of electronica to help frame it adds to its playful quality.
Drumming introduces the piece with such gusto. From there the song unfolds in a graceful fashion. By possessing such a physicality and passion, the song simply bursts with enthusiasm. All of the multiple layers intermingle giving it a kaleidoscopic swirl, one that becomes rather gorgeous while it spends time unfurling. Moments of lives lived are woven within the track's very DNA, allowing it to simply overwhelm with tremendous energy. By marrying elements of old traditional Latin music with a modern flair, the song has a spirit very much of this moment. Towards the finale of the piece Macaco lets it all build up into a lush finale, one that nicely builds upon all that proceeded it in such a cinematic way.
Macaco sings universal truths on the sundrenched spirit of "Bailo La Pena".