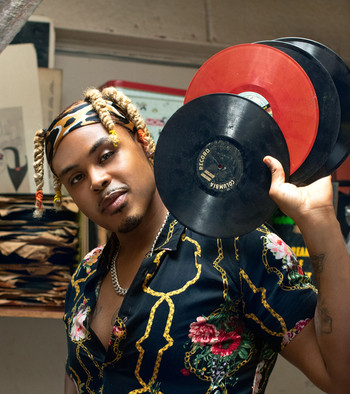 Here we are today on a gorgeous Tuesday in New England but our reach is global. Today we are joined by an artist that is truly on the cusp of stardom. We @skopemag have been witness to his elevation not only in music but in lifestyle and fitness. He has really enhanced his whole movement as of late doing massive promos while releasing new hit singles. He has such reach with the community and stands for positivity and self-love. Join us today we chat with Pioneer and stream the new single 'Hamma No Jamma'!
@skopemag: When you began your journey in music were your family/friends supportive?
@Pioneer: No not at all. When I stopped playing football gears started switching and my family became distant.
@skopemag: What is it about music that you knew this was more important than all other artistic endeavours?
@Pioneer: The feeling the light up when I hear any instrument. The way nothing because something and now it something everyone comes together on! That how music got me!
@skopemag: What do you think makes some artist/bands resonate with the masses when others do not?
@Pioneer: Passion, being you, being relatable with a leader presence. Then admitting your short comes and let them know you human too!
@skopemag: What other bands/artists do you respect & inspire you?
@Pioneer: I respect Kevin Gates he is a major inspiration in my career. I'm inspired by The Bee Gees and the evolved innovation sound through there years! When I listen to NAV my writers block disappears. And lastly but not least Calvin Harris! He can work with anybody and in every way and I aspire my career a lot after him!
@skopemag: When you are not doing music what else do you enjoy?
@Pioneer: Fitness life! Being involved in scholastic activities that keep Children in fitness! Finding those who need that extra boost for the day and going through it with them! It brightens my existence.
@skopemag: How much time per week do you devote to music & social media marketing?
@Pioneer: The majority of my week. I see it as social media is a great opportunity to make you music know but you have to have something they want to see and it has to pose as different.
@skopemag: Should I feel guilt as an industry insider for paying $10 a month for Amazon Music Unlimited and having access to all music as I please?
@Pioneer: No these days you have to be humble enough times are forever changing so get to evolving!
@skopemag: What kind of environment & mood do you feel most creative towards your music?
@Pioneer: at a gym, in my car, looking at multicultural atmospheres.
@skopemag: When are you most inspired to create music?
@Pioneer: when I'm feeling emotions rushing through me! Good, bad , great of all the above!
@skopemag: What is coming up for you & where you @ online?
@Pioneer: right now we are building awareness pushing the sound to the masses, gaining new believers, valuing our day 1s and making a high energy presence so we can release so great monumental music!
You can find me on –
Instagram @theofficialPioneer
Twitter @rfdpioneer
Youtube @PioneerVisionsInc look for to you subscribing!
And although we are officially Pioneer you can find a lot of previous music under Rfd Pioneer!