Zero Frequency embraces a feral lo-fi beast of a sound with "The Ocean's End (Vol. 1)". Everything has a raw grit and soul to it. Over the course of the album they eschew polish for a direct living breathing quality to it. Full of life, these pieces possess a poetry to them. Volume is a must, for they follow in the same fine footsteps of Ty Segall's messy garage rock revival efforts. Vocals take on a confrontational aspect to them as they rise above the wild, unpredictable and oftentimes woozy arrangements. So loose and free, the songs themselves run through as if in a delicious fevered daze.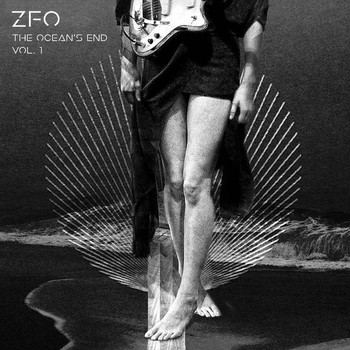 Beats hit with an industrial fury on "Artemis Descends". A jagged guitar riff weaves through the whole of the colossal "Bondage Swan". On "Euphoria, Euphoria" Zero Frequency go for an elastic groove to anchor the entirety of the track. By far the highlight of the album comes with the epic sprawl of "Take It Deeper". Within this singular piece, Zero Frequency chooses a timeless sound, sounding like an instant classic. A totally spaced out psychedelic tact defines the weird and wonderful "West Coast Refrain". Spacious to its core "Death At Sea" have a force of nature quality to it. "Sunshine Of Your Lust" opens up with such a stately grace as it soars up to the sky. Neatly bringing the whole thing to a close is "Radio Love Rampage" full of frenetic energy.
On "The Ocean's End (Vol. 1)" Zero Frequency go for a no holds barred approach.
https://zerofrequency.bandcamp.com/album/the-oceans-end-vol-1