"What do you see when you look in my eyes?", asks Houston rapper Kid Fre$h on "Imma Youngstar," his latest single. Nothing but struggle and passionate grind, he assures us – and the video for "Youngstar" shows us exactly what he's talking about. A.chancy Jr.'s clip is a portrait of an artist defined by his determination: one driven to succeed at all costs, constantly better himself, and play as hard as he works.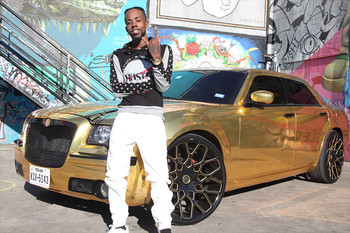 Don't be misled by the jewelry, the sharp clothes, the fancy cars, and the fancier women. Kid Fre$h is a bruiser, and he's had to fight for everything he's achieved. Evidence of that battle is apparent in the incendiary hip-hop records he makes – records with genuine pop appeal, but which never stray far from the streets.
That fight to excel is the central theme on the explosive and emotional Bag SZN EP, Kid Fre$h's latest project. His vocal skills have never been questioned; the Bag SZN tracks firmly established him as a versatile storyteller as well, equally capable of imaginative metaphors, catchy, radio-ready choruses and pure hard rhyme, too. The set has already drawn plaudits from Houston rap aficionados and critics alike – The Faulkner Review praised Kid Fre$h's superb command of rhythm and verbal gymnastics, Soundtracklauded his provocative concepts, and Fresh Out The Booth commended his production.
https://www.instagram.com/iamkidfresh_/
"Imma Youngstar", the follow-up single, builds on the success of Bag SZN with scalding verses, clever wordplay, and a hook that wouldn't sound out of place on a Top 40 playlist. The song was produced by Jhiame Bradshaw, and the melody comes courtesy of Ahmad Collins, whose sweet vocal imparts a seductive tone to a textured mix. Collins is the cool breeze, Kid Fre$h brings the heat; together, they make enough steam to power an engine.
They look and the part of contemporary hip-hop stars, too. A.chancy Jr.'s camera captures them in their element – grinding on the street corner, hanging with beautiful women in a stylish apartment, cruising through the Downtown Los Angeles streets in a silver Porsche. Notably, neither artist breaks a sweat: instead, they look impossibly crisp in the city heat. Are they cool? Of course. But look a little closer, and their intensity cuts straight through the studied nonchalance. It's just as Kid Fre$h says: the eyes are always a giveaway, and his stare speaks volumes about what he's experienced, and where he's going.