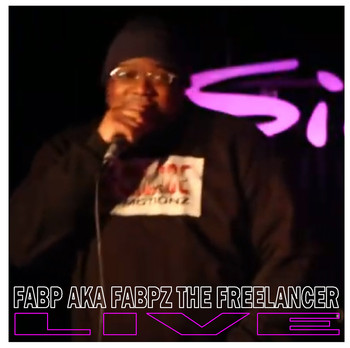 Fabpz the Freelancer recently performed at an Open Mic Live in New York City. Fabpz has always been one of the top artistes to watch with the help of his X-Calade Promotionz label ensuring that his music gets as much publicity as possible. Fapbz is an underground Hip Hop artiste that has released many mixtapes available online. He is known for his great flows and slow-tempo rhythm.
The Sidewalk Café's Open Stage is a popular hangout in New York if you are looking for fresh and established talents and artistes. Fabpz performed his new single "Till I Flow Dumb (Live)" to a packed house in March to a lot of positive reviews. The short freestyle session showcased Fabpz's versatility and ability to improvise on the fly. There aren't a lot of rappers who can flow through a freestyle and appear casual while they are at it.
Fabpz the Freelancer has proven over the years that he is always capable of delivering bars either in the studio or open mic impromptu. "Till I Flow Dumb" is a cool, Hip Hop song that only Fabpz can deliver in his unique way. Fabpz is a natural storyteller and in a few minutes, he can craft a tale that will take the audience on a great journey. His real fans know how good he is and the extent of his imagination and music sense.
Not everyone can relate with Fabpz's style but that in its way, makes him even more remarkable as an artiste. The freestyle uses a lot of jokes, smooth lines and even without the supporting band and other elements, the music is still very impressive. Even though most of his lyrics are far from famous and the rhymes are not familiar, Fabpz has a solid fan following that makes him highly respected both in New York and other parts of the country.
"Till I Flow Dumb" freestyle is a nice body of work that reminds us again of the artistry of Fabpz the Freelancer and here's another body of work to the same effect.