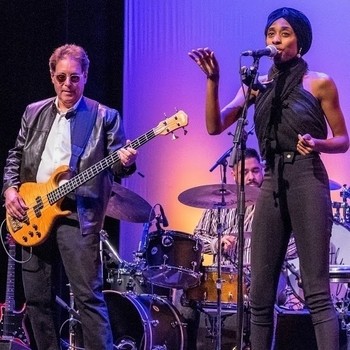 Blistering blues guitar welcomes us into Project Grand Slam's new LP PGS 7 on a high note, only to break away in a flurry of jazz jamming in "Yeah Yeah," the album's opening track. Ziarra Washington doesn't waste a second in seducing us with her vocal charms, and sax man Mario Castro peppers her harmonies with an enormously evocative hook dead-center in the mix. "Redemption Road" takes a similarly blues-driven path into sonic darkness, but with Robert Miller's stirring basslines to light the way, we never feel lost in the ocean of musicality drowning out the now-distant silence. It's easy to see why "Redemption Road" was picked as the first single from PGS 7, as it embodies the spirit of the record while also staying within the traditional framing that FM radio demands in a hot new track.
URL: https://www.projectgrandslam.com/
"Take Me" jolts us awake with a booming drum pattern from Joel E. Mateo that is finished by percussionist Guillermo Barron Rios, but it's really a primer for the mathy jazz spin of "At Midnight," a song that is avant-garde in concept but contains a blushing pop rhythm that is as infectious as the powerhouse "Redemption Road" for sure. "Python" gives the band a little room to stretch their legs in a brief instrumental salvo before getting us back into the action with "Get Out," where I believe Ziarra Washington gives a performance from behind the microphone that tops almost everything else I've heard this season. I can't say enough about this track – "Get Out" rocks hard, rolls easy and will burn its lyrics into your brain even in the most cursory of listens.
"With You" slows down the tempo drastically and gives keyboardists Marcello Casagrandi and Baden Goyo a shared moment in the limelight through an otherwise brittle arrangement made much stronger through their gentle melodicism. "No One's Fool" highlights all of the energy that guitar slinger Tristan Clark brings to the table with him every time Project Grand Slam gets together to make an album, and next to the lumbering grooves of the band's take on "The 'In' Crowd" and the second instrumental "Torpedo of Love," this track represents the most stable song structure you're going to hear on PGS 7. "I Don't Know Why" comes pretty close with its Ramones-style ramble, but there's something really wild about "No One's Fool" that goes well beyond cosmetic razzle dazzle and raw agility.
The self-explanatory "Funk Latino" sets us up for the concluding number "Tree of Life" with a playful rhythm that is quite danceable and a tempo that will make even the most hardened of hearts beat a little faster. In "Tree of Life," Project Grand Slam's Ziarra Washington delivers a sobering ballad directed towards an ailing world that needs reminding of its basic humanity in these ever-trying times we live in today. It's a tear-inducing closer that will shake you to the very core of your being, and though it sits beside a much more optimistic collection of mild melodies and godlike grooves, it essentially completes our journey at the end of the tracklist in a way that only a couple of other songs would ever be capable of. PGS 7 is a record that inspires dance, desire and deep introspection in anyone it makes contact with, and it's undisputedly one of the best new releases of the spring.
AMAZON: https://www.amazon.com/PGS-Experience-Project-Grand-Slam/dp/B071VGTRDP
Gwen Waggoner
The music of Project Grand Slam has been heard all over the world due to the promotional services offered by Danie Cortese Entertainment & Publicity. Learn more here – http://www.daniecorteseent.com/