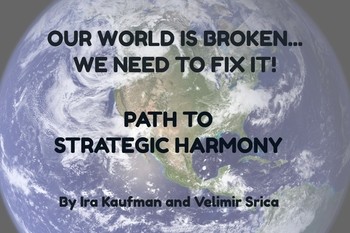 This is a book that's critically important right now. While it is unlikely scores and scores will pick it up and use as it a call to arms for promoting its ideas, it nonetheless adds an intelligent and deeply concerned voice to the ongoing discussion about the worsening state of human endeavor and how we might set ourselves on a new course rather than continuing on a downhill slide. Ira Kaufman and Velimir Srića's The World is Broken, We Need to Fix It: Path to Strategic Harmony concedes, from the first, that many will not agree with their assessment that our world is in such a state of disrepair, but they do not allow that reality to stop them from pushing forward concepts and ideas, deeply humanist in nature, for how we might steer ourselves in a much different direction. The book is also quite unique in how it aligns itself with no particular philosophy; as alluded to in a previous sentence, their allegiance is to the betterment of human society and nothing else.
It isn't just unique, but refreshing. Books of this nature seem to frequently serve as quasi-political testimonies stumping for a particular vision built around partisan principles. Instead, the authors ground their plan for a better tomorrow around the reshuffling of human nature. They begin by identifying how we reached this critical state in our global history – old orders and values have crumbled in a world spinning faster and faster due to a wide variety of factors and our response to rectifying the damage has been wholly inadequate. Rather than pronouncing sweeping judgments over nations and peoples, the authors rely on respected research and strong anecdotal evidence to support their point of view.
RELATED ARTICLE: https://thinkcatalytic.com/our-shattered-world-the-business-challenge-91bbda2577b2
It's a sweeping and extensive book, but it is built in such a way that you never feel overwhelmed by its sheer breadth. They point out how there have been a number of new societal and business models already introduced into our world that have proven the efficiency of alternative approaches and there's a strong case made for how personal change is essential to bringing about many of the larger alternations we require. This is an important component in the book's potential for reaching a wide audience. There is no religious touch to the book, but the writers do find value in some of the personal ideas Christian and Muslim texts promote – without any of the fundamentalist and extreme views often assigned to those volumes.
The World is Broken, We Need to Fix It: Path to Strategic Harmony will not appeal to everyone. The writers even open the book admitting that not all of us will find common ground with their positions, but I finished the book largely in concurrence with their point of view, if not the feasibility of their ideas. I appreciate their attempt to engage these important issues, their take on values, and the accessibility of the writing. Ira Kaufman and Velimir Srića clearly work well together here and deserve a lot of applause for an excellent addition to a growing library of books on this very subject.
IRA KAUFMAN: https://www.linkedin.com/in/irakaufman/
Joshua Beach