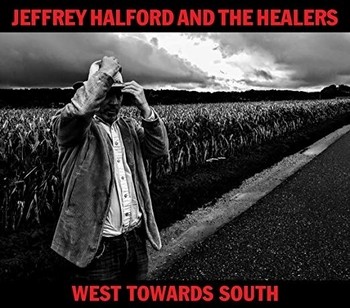 They wowed us with such sizzlers as Railbirds, Broken Chord and Lo Fi Dreams, and now in their latest record West Towards South, Jeffrey Halford & the Healers are back and banging out their best music in years. A concept album by design, West Towards South features a litany of majestic melodies in ten tracks that pack a mighty punch when played in both a single setting or a casual listening session. If you had thought that you'd heard the very best of these boys, you'd better think again, because as it turns out Jeffrey Halford & the Healers are just getting started on a new chapter in their thrilling history as a group.
URL: http://jeffreyhalford.com/
Halford's vocal is a lot less filtered here than it was in Lo Fi Dreams, but there's still a little fuzz injected into his croon on "Dead Man's Hand," "Gallows" and the title track that helps to emphasize the dose of danger within his lyrical delivery. "The Ballad of Ambrose and Cyrus" is probably the most straightforward serenade that he gives on West Towards South, and it rounds out the tracklist quite nicely in the wake of the supremely surreal "Geronimo." There's plenty of bombast in the arrangement of the songs, but it never becomes a bigger element in the album than the content of the music itself is.
The guitars are telling a story of their own in "A Town Called Slow" and "Sea of Cortez," and I would even describe it as a subplot to the main narrative in West Towards South. In their reverberated harmonies, we take a trip back in time to an America that was simpler on the surface but just as unpredictable when we get down to brass tacks. Halford's vocal is really soulful in these songs and complements the depth in the strings better than any other possibly could have.
There's a little nostalgia in the lyricism that we find in "Deeper than Hell," "Willa Jean" and "Three-Quarter Moon," and it's backed up with a vintage tonality in the instrumentation that contributes to the rustic vibe that we hear in all of the songs on West Towards South. Jeffrey Halford & the Healers are wearing their influences on their sleeve here, but I wouldn't go as far as to call this an homage record. "Gallows" is too flexible in its structure to be called anything other than Americana, but in the case of "Dead Man's Hand" or "Geronimo," the black and white lines between conventional genres become a heck of a lot grayer.
AMAZON: https://www.amazon.com/Towards-South-Jeffrey-Halford-Healers/dp/B07NKVMM41
Mark your calendars, because spring is about to get officially sprung courtesy of Jeffrey Halford and his impeccable Healers through their new LP West Towards South, and in a season that has thus far left a lot to be desired, it's got just the right stuff to liven up an otherwise dull party. Progressive themes are often difficult to meld with Americana when it's at its most uncorrupted and raw, but this band makes it look all too easy in these ten tracks. Their momentum isn't slowing down any time soon; if anything, this album is going to give it a lot more steam heading into the next decade.
Gwen Waggoner