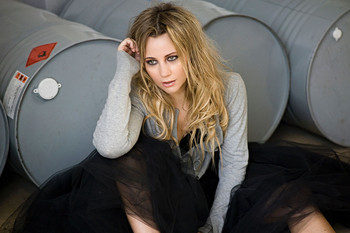 What do you get when you take a classically trained actress and singer and add punk nuances and raw-sounding rock guitars? Kalliopi, that's what. Initially starting as an actress, studying drama in Athens and London, playing lead parts in numerous theater productions, she worked her way up as a singer from piano restaurants to clubs and live venues singing jazz, Latin music, Greek music, pop, and disco. While singing cover songs in pubs and bars, she started to write songs which she performed around London at venues like Betsew Trotwood, Rock Garden, Pop Bar, Infinity Club, George and Dragon, and the Hope & Anchor, as well as learning to play guitar. Now, the Greek artist is a rock singer-songwriter whose sound has been described as "reminiscent of some of Cranberries work," a "mixture of Madonna meets the band Garbage," and "Blondie meets Pink.
"Her single "Naked" is an upbeat pop-rocker with dominant and powerful vocals. The recording features an impressive group of musicians – Spyros Kontakis on guitars, Alkis Missirlis on drums, and Barry Zealy on bass and backing vocals – and was mixed by Alex Newport and mastered by Ted Jensen. Kalliopi is also impressive on stage, and has supported major pop-rock artist Christos Dantis on his Greek and European tours for three years, forming a band with his musicians, Minima, who released an album at Lyra/MBI Records. She collaborated with producers Coti K. and Kostas Parissis for the remix of "Lena Platonos," released by FM Records; she put in her distinctive airy vocals, improvising melodies for "Roumanian Emigrants." The project went live at Rodon Club, the biggest rock venue in Athens. Kalliopi has been featured as a guest singer with bands such as Apontes, H3, and Oi Drapetes, and released a well-received cover of Dusty Springfield's "Summer Is Over."
In "Naked," Kalliopi isn't singing about being nude – here, she's talking about how you feel vulnerable and "naked" when your true self is being exposed, when you have to face the truth and drop all pretense by being with the right person who can see through you, means you're being seen; nothing is hidden. "Naked" is pure 90s rock, blending influences like The Rolling Stones, the edge of Joan Jett or Blondie, the intensity of Madonna and Alanis Morissette, and the emotion of Joy Division or The Cranberries. Whether it's close up shots of her face singing directly to the camera, or a wider shot showing her dancing, here, we see Kalliopi being truly, and unabashedly, herself.