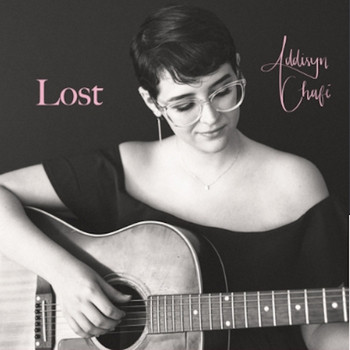 Addisyn Chafé's "When We Fall In Love" is a quietly, thoughtful and moody song. Chafé sings this lyric over a finger-picked guitar part. She vocalizes with a sweet singing voice.
Taken from her forthcoming EP Lost, "When We Fall In Love" is yet another spiritual song that may not be obvious as such upon first listen. When she sings, "love me tender, love me strong," she could easily be paraphrasing an old Elvis hit to formulate a new romantic ode. Then again, this kind of love may well be the divine variety. She later sings about another that protects her, which is a more Godly attribute, than a human one.
It's just the song's title that throws up the biggest roadblock. Falling in love is a human relationship cliché. Granted, a religious, born again experience can also feel like falling in love with another person. But it's so different because, quite frankly, each partner is not on equal terms. Human abilities pale in comparison to the divine, almost no matter what religion you're talking about.
With all that said, though, "When We Fall In Love" is just such a lovely song. It sets the scene, much like a wedding photo album. With it, it's easy to picture two partners staring into each other's eyes.
Sonically, this is a track that leans heavily on folk elements. Even so, the melody is far moodier than most folk music. It has a sort of alternative rock vibe propelling it. That is, until it reaches the chorus, which is all pop. It's as though all the verses build up the anticipation to where love is finally found in the chorus. It's a smart way to create dramatic tension with a 3:46 song.
Back in the day, Debby Boone created controversy with her hit song "You Light Up My Life." She claimed it was a song about her love for God, but then songs of love for God don't often become pop hits. No, most folks took it as a romantic song. Does it really matter how an audience interprets a song, so long as that interpretation isn't an immoral one? So what if folks thought Boone's heavenly thoughts also expressed similar romantic feelings for others? In fact, if you listen to today's mainstream country music, it's fairly common to take the whole religious conversion experience and apply it to meeting Mr. or Mrs. Right. That is so much more egregious. It would seem Chafé is intentionally leaving the interpretation door open. Perhaps she wants to make it easier for non-religious people to be more open to her music. If so, that's a smart strategy.
Whatever you may think about Chafé's intentions for her song "When We Fall In Love," it's difficult not to fall, so to speak, for this simply lovely song. Beautiful songs, sadly, have fallen a little out of favor in today's radio landscape. It's far more common to be 'hard' and 'real,' instead of soft and soft-spoken. This makes "When We Fall In Love" something unique and special, and a welcome break from all the harsh reality expressed on the radio.
-Dan MacIntosh