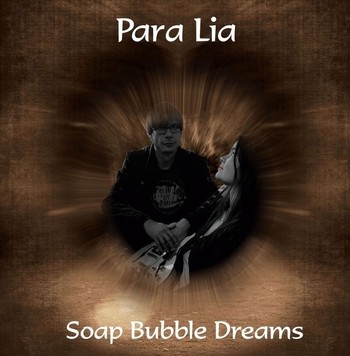 Soap Bubble Dreams is a new release by Germany's Para Lia, which is an Alternative Rock band led by René Methner, and he plays all instruments and is supported by Cindy Methner who sings duets perfectly around the massively layered guitars and synths, which is all done with colossal results between the two which serve up one of the best male/female combos I've heard in some time. This is an unsigned band, but they're as good or better than most bands around the globe.
FACEBOOK: https://www.facebook.com/paraliamusic/
They combine some great sounds that are clearly influenced by 80s bands, and even the 70s with clear appreciation for everyone from The Smiths and The Cure to Pink Floyd and others. Alternative rock is rarely this good anymore.
Mastermind, René Methner is an amazing musician and songwriter without question, and he couldn't have a better partner as the vocals do everything vocals used to do, and that's not taking anything away from newer music it's just a throwback you cannot deny about their music. The album kicks off appropriately with "Soap Bubble Dreams" and you could swear you've heard it all before but at the same time haven't. The retro properties go from influences like Psychedelic Furs to Modern English in the most complimenting ways possible without sounding like a cover or tribute band. This is hard to do with so many of them around these days, but they come out clean in the process.
The originality is all their own, they just seem to choose a unique way of sounding superior in their own-right without reinventing the wheels of the past. "Wait" is up next and it's more of a storytelling trip but the lyrics bring the two singers together like magic and there is no analyzing where any of it came from, but let's just say he retains some gothic preach style vocals that you just don't hear new bands using enough. That's what makes this band an excellent alternative to the static norms of today's musical landscape.
"The Man Who Went Away" probably proves to be the most progressive in concept, which contrasts the previous two numbers by more adventurous lyrical content. I'm not certain which track on the album holds more familiar clichés of the ever-longing sort, but this absolutely–mesmerizing track is certainly one of them. "Leaves Of Grey" follows with more of the same, but it bubbles along with much more fire and brimstone than anything thus far on the disc. This is where the album starts to peak and never look back.
SOUNDCLOUD: https://soundcloud.com/para-lia
"Romancero" takes it all over the top with a more energetic number that once again kills it, but it also combines a lot of the influences they bring together on this album. The male vocals are most commanding, and the whole thing just reminds you of the good things about the music of the past. "Over It," 'Beautiful Day" and "Higher And Away" are all fantastic as well, with the excellent titles "On My Way Home" and "Who Gets Fooled Again" rounding out a killer album full of 70s style Neil Young meets the romantic and synth-pop values of the 80s.
Gwen Waggoner