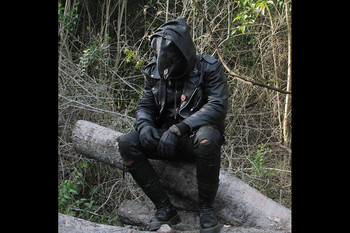 Chances are, if you're familiar with TaSzlin Muerte's music, you know him from Austin's uncompromising trio BLXPLTN. It follows, then, that you think of Tasz as a ferocious punk rocker – one driven by his sense of social justice to thrash against the system. He's a scourge of the status quo, launching distortion and drumbeats against the powers that be – but no musician can rage without ceasing.
Tasz has his meditative moods, too, and ABOI, his latest project, is more of a sweet and slow-acting poison than a sudden splash of acid. "SEE THROUGH" (produced and engineered by Elliott Frazier of Ringo Deathstar) is beautifully bleary, dreamily electronic, and thoroughly trippy.
Although it might take hardcore fans of BLXPLTN a moment to acclimate themselves to ABOI, it won't take them long to realize that Tasz hasn't changed very much. The confrontational artist behind "New York Fascist Week" and "Education Destruction" is still very much here: he's just altered his strategies a bit. BLXPLTN has always been
interested in horror iconography, and ABOI makes that attraction even more explicit. This is haunting music – mixes decorated with distant piano, synthesizer, drum loops, treated vocals, echoes everywhere – and as beautiful as it is, it's more than a little scary, too.