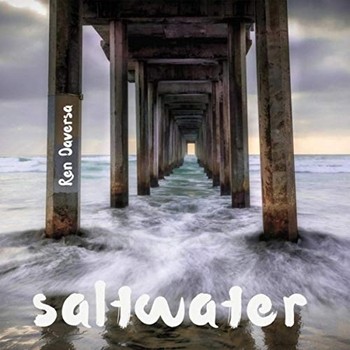 Saltwater is not just the name of Ren Daversa's new album, but also a big part of her life. Although raised on a small island off the coast of Rhode Island, Daversa went on to front the San Diego band The Good China, which took her way over to the opposite coast.
The album opens with one called, not surprisingly, "Oceans of You," which includes the line, "I feel like I'm drowning in oceans of tears." Although one hopes Daversa has never come anywhere close to actual drowning, the ocean analogy is something she certainly must know well. The song is a relatively happy sounding song, too, despite the tearful lyrics.
"Heart to Heart" is a more positive song, both musically and lyrically. It's built, like most the rest of the album, upon acoustic guitar music. This song is also colored by tasteful electric guitar leads.
Daversa names folks like Tori Amos, Jeff Buckley and Cold War Kids as influences, but nothing on this album is as abrasive as both Cold War Kids and Tori Amos can be, nor as breathtakingly beautiful as Buckley. Daversa has performed at her share of benefit concerts, although this collection of songs is hardly political. Nevertheless, "Cut and Dried" takes a few subtle stabs at modern social ills. "Just One Word" is more her style, where she sings about family (and lists all the family pets, too). It's a sweet, happy sentiment, which is how a goodly percentage of this album sounds.
This record is relatively gentle, sonically, as you may have guessed. "Closer" is one of the few tracks that goes to a driving beat. But it's a mostly acoustic driving beat, though. "Firelight" is similarly upbeat. Lyrically, the latter is also a tad mystical. Rhythmically, "The Upside Down" is this release's most memorable track. It switches between an aggressive acoustic guitar parts, and a much gentler section. It, once again, includes tasteful electric guitar fills.
"Funny" takes a break from the album's more hyperactive moments. It's a quiet, thoughtful song. The album closes with "Type A," which sounds to include little more than a ukulele and Daversa's vocal. As you may have surmised, the song addresses the type A personality. In this case, Daversa is singing about herself. After listening to all these mostly acoustic folk songs, it's difficult to imagine Daversa as a type A personality. Her music, though, and her overall personality must be two entirely different sides of the woman.
There are countless songs out there, but you'd be hard pressed to find one about type A personalities. When you factor in the ukulele in, it makes this singular recording extremely rare and unique.
With all the troubles in the world, it's sometimes difficult to see and focus on beauty. Ren Daversa has a beautiful voice, though, and while she's singing these Saltwater songs, it's tough to focus on anything else – particularly anything else negative. When she's singing, the ocean just looks like a beautiful blue wave machine, and not a collection of tears (as one of her songs suggests). Turn off reality TV, turn on Ren Daversa's music and tune out all the world's negativity. This won't save the world, but it's a real fine place to start.
-Dan MacIntosh