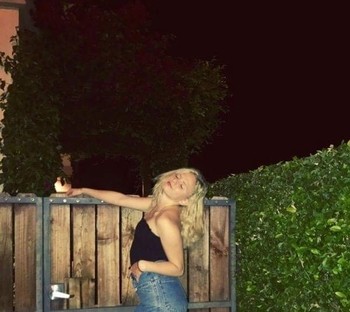 Meghan Timony sings straight from the heart on the intimate folk musings of "Up & Down". Aptly named the song ebbs and flows in a cyclical fashion. Lyrics focus on the poetic musings on relationships. The track lets the relationship and all its complexities fuel the overall narrative. Instrumentation has a rich, surreal quality to it. Besides the folk-like atmosphere, Meghan Timony incorporates dream pop and a hint of shoegaze into the mix. With all of these merging of genres Meghan Timony comes up with a sound that feels uniquely her own.
Guitar works weaves together in a spacious way. The acoustic helps the piece stay grounded while the soaring of the electric show off the vast space. Her voice rests front and center of it all. Coming into bloom in such a delicate meticulous fashion, Meghan Timony lets her emotive vocals reign supreme over it all. Done with the greatest level of care it all feels so soothing, reassuring even. By letting the song explore the difficulties of a relationship, she touches upon what it means to try to care for others. For the final stretch she strips all the ornamentation away revealing a tender heart. By highlighting the tough nature of relationships, she makes a love song that is truly a love song: one that accurately documents the confusion that a relationship can bring.
On "Up & Down" Meghan Timony crafts a pitch perfect piece; one whose kind and gentle spirit linger long after it has ended.