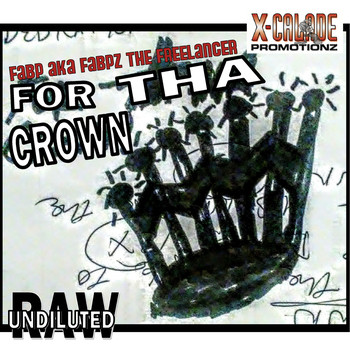 Fabp is grinding out hot, new tracks with his recent album titled 'For Tha Crown'. Fabpz the Freelancer doesn't know the word quit as this NYC artist/producer consistently churns out Fresh To Def recordings. This latest project by FabP is no exception as the relentless rapper looks to achieve hip-hop royalty with 'For Tha Crown'.
With 14 tracks on the record, it's interesting to note that 10 songs are exactly the same length at 04:58, three at 04:59 and one at 04:57. Whether done by design or just a strange coincidence, the fact of the matter is that each track has its own identity and not one and the same by any means. The CD starts up with the title track where the listener will receive Underground rhymes at their finest along with gritty beats. Sound the bells because Fabp is takin' you to school on "Rich Man Vanity" with a lush audio explosion in place. Fabpz the Freelancer is orbiting the eardrums and shootin' for the stars on "Fly Away Homie" and then brace yourself for a bit of musical mystique and newfound "Flava In Ya Ear" (Craig Mack) with "Dissing Me Not". Track five, "Pocket of Money", is loaded with plenty of bounce & style and most definitely worth more than 50 cents with its barrage of beats hittin' ya. Next up, the Freelancer is serving up cool, retro video game effects and playing the role of Master Fabp Blaster on "5000served Up Up Up". Track seven, "Dead and Gone" has a very serious & sad tone and is about those we've lost but done in dope fashion. The sensitive and relevant material here on "Dead and Gone" will leave the listener contemplating over life & society. Fabp decides to keep it loose and break it down on the playful tune "Rubie Ruby" and then is firing off lyrics & blazin' beats like General MC on "JohnCrow G.I.". Get some extra bounce in your step on track 10, "She's A Bunny Hopper", with this fly, hip-hopper. Grab "Tha Old Box" and jam out to an old-school flow where Fabp is just doin' it "For Tha Crown" all day long. Fabpz the Freelancer is basking in his glory on track 13, "My Crown Supreme", where he will make you "Believe That" just like WWE Superstar Roman Reigns. The album ends on a fiery note with "So Hot So So" where Fabpz is simply on fire and droppin' bomb hooks at will.
Audio Listening Link: http://x-caladepromotionz.bandcamp.com/album/for-tha-crown-explicit-fabp-aka-fabpz-the-freelancer
There is such an extreme rawness to the music as Fabp delivers certifiable bangers for your listening pleasure. Fabpz the Freelancer is back to basics on 'For Tha Crown' where he proves that you don't need fancy loops or have to go through over-produced hoops to accomplish a legit, true-to-life product. Fabp aka Fabpz the Freelancer and X-Calade Promotionz do it for the love, do it for the hip-hop culture and do it 'For Tha Crown'. Just like LL Cool J was "Doin' it, doin' it, and doin' it well", Fabp represents the NY rap game and is rising to the occasion.
By Jimmy Rae (https://twitter.com/2JRae)