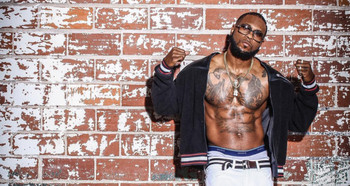 Born in Galveston, Texas and son of a Major League baseball player, Chianti was well traveled. His parents were known for throwing notorious house parties, which began Chianti's journey into making music. He was influenced by the realness of Tupac Shakur, the rawness of Pimp C and Bun B of UGK, and it was around that time Chianti was relocated to the West Coast.
Upon relocating, Chianti began writing poems in order to vent and express himself because during that time he was being exposed to the other side of the streets. Engulfed in the streets and everything that came with it, Chianti became exposed to the gang culture. Little did he realize that he was destroying his community. Chianti then moved back to Texas to his father's hometown of Marshall . He decided to change the way in which he expressed himself, he would spit raps instead of poetry. Like his early influences of Tupac and UGK, he learned he could say what he wanted to say and put some good music to it. Chianti knew he was always good at putting words together, so by the age of 15 he began to take the music much more serious and began writing his own rap lyrics into songs. He would showcase and display his new set of skills around the neighborhood. "Rapping and writing was a way to make myself feel better about the stuff I was going through " said Chianti in a recent interview.
Chianti is on the road to success and has a lot more music scheduled for release, one being an EP titled "Hard Feelings". In order to rebuild those communities that were destroyed, Chianti and Hi-Way Money Music have many more positive endeavors in store for the near future.