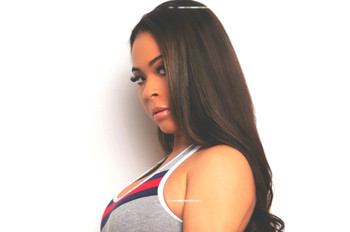 From defying all odds, singing covers of amazing songs to becoming a fast rising sensation in the music industry. The breath taking AR Santiago has won the hearts of fans and music lovers across the world and she has become a household name for the effortless delivery of amazing vocal dexterity and notes that constantly melt the hearts of her listeners worldwide.
AR Santiago, full name Ashley-Renee Lolina Santiago, is a product of a black mother and a Puerto Rican father. Ashley-Renee was raised in the suburbs of Philadelphia by her grandmother with 4 sisters and a brother. As music was her first love, she started singing from the tender age of 4 and grew up in understanding and learning the art of singing, writing, and acting.
After moving to Atlanta to pursue her music career, AR Santiago has worked with major names like Chevy Woods (Taylor Gang), Nick Grant, Quentin Miller, and B Hess just to name a few.
Inspired by 90s Rnb legends Jodeci, AR Santiago's goal with this track was to give it an authentic 90's RNB feel; and she did just that.
"I remember writing the song with my vocal producer/co-writer Bhess, and him not initially seeing the vision until AFTER I recorded the Chorus. I said to him, listen, I want to stack the vocals and do as many harmonies as possible (laughs). Hess thought I was nuts! but I knew what I heard in my head. Anyone who listens to Jodeci knows their hooks have a lot of layers and exaggerated vocals. I wanted to mirror that. "Crazy" final product sounds exactly how I heard it in my head", says Santiago.