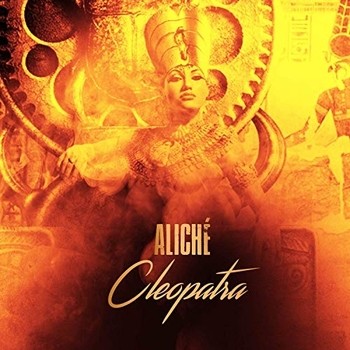 The sensuous sounds of a fleeting eastern wind come cascading from our stereo speakers in the first few bars of Aliché's new single "Cleopatra," and though unassuming and simplistic at the onset of the song, it doesn't take very long for the melody that they're producing to evolve into an all-out carnival of gripping grooves that will wrap their arms around us in a bittersweet embrace. Aliché's voice slips through the miniscule sonic gaps between the bass and the treble-soaked percussion, and soon finds the perfect spot in the mix to perch itself and drive its colorful harmony into our hearts from. "Cleopatra" takes its name from the legendary Ptolemaic ruler, and ironically, it serves to elevate its singer to an equally royal status in the R&B scene of 2019.
In the opening stanza of the song, the vocal track is all that we can focus on, and that's no minor statement when you take into consideration just how mammoth the instrumental melodies are in the background. There's an atmospheric glow in the mix of the synthesized backing track that allows for the music to feel a lot more natural and unvarnished in comparison to what we find in most dance-oriented pop singles, and I would even say that the structure of the lyrics makes "Cleopatra" a bit more postmodern than anything else playing in your local nightclub at the moment. She's experimenting with her vocal range in this song, but avoiding the pitfalls that come with overindulgence masterfully.
When we fall upon the chorus of this single, all of the stinging tension that builds in the verses leading up to it suddenly reaches its climax in an unadulterated vocal flex by Aliché. We not only see just how unwavering her musical chops are here, but we actually get a glimpse into what could be a very fascinating direction that her sound might take in the future. She's flirting with shades of EDM and Europop in this song, but binding them together with an undeniably melodic sway that is rooted in classic R&B. If the swagger that she's got in this single is representative of what she brings to her live performances, then I really hope to see her hitting the road for a national tour before the year is out.
"Cleopatra" slips into the darkness from which it came roaring out of in a tizzy of crashing drumbeats and lacy lines executed with a show-stopping melodicism from the vocal track, and while it's a somewhat short song (running just over two and a half minutes in total length), it's definitely not lacking in substance by any measure. I've only just discovered the music of Aliché, but I can tell you now that I'm hooked on this single and her swanky debut EP Exx at the moment, with little hope of kicking my newfound habit anytime soon. With more time, experience and the right influences in her life, this artist could become one of the more interesting stories to unfold in R&B this year, and you can bet everything you've got that I'll be keeping a close eye on her career as she continues to make stunning new music.
AMAZON: https://www.amazon.com/Cleopatra-Alich%C3%A9/dp/B07PHLKRHP
Gwen Waggoner