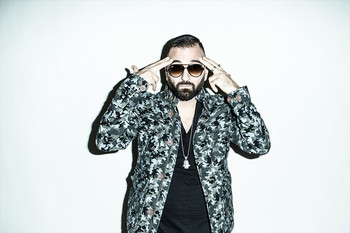 Raised by North African parents in the complex reality of Israel, SHI 360's music reflects an eclectic mix of Middle Eastern melodies, North African rhythms, and thought-provoking lyrics. This Canadian rapper and Jewish rap ambassador grew up on an unconventional blend of Michael Jackson, Otis Redding, Charles Aznavour, Umm Kulthum, and many more. He first heard hip-hop music on "The Voice of Peace," a Pirate radio station run by Israeli peace activist Abie Nathan.
As a young boy, he immigrated to Canada, where he was exposed to hip-hop culture. He learned English by studying every rap song he could find, releasing his debut album Chapters under the moniker Supreme Hebrew Intelekt (SHI) as a representation of his roots, skillful delivery, and excellent wordplay. After returning to Israel in 2001, he learned how to rap in Hebrew, adding the "360" to his name to represent his "full circle" return to his point of origin. He made history with the release of the first Israeli hip-hop mixtape, 360 Degrees in the Shade, and by hosting the country's premier hip hop radio show, The Lab. SHI 360's ability to switch between English, Hebrew, and French rhymes is unparalleled, and his inspiring songs and socially driven lyrics speak to a broader audience, bridging cultural gaps.
After dropping back-to-back freestyles every Friday of 2018, this Canadian rapper has now released his long-awaited album Elevate, produced by critically-acclaimed Turkish rapper and producer Sagopa Kajmer. Sagopa's hard-hitting East Coast boom-bap drums and middle eastern melodies perfectly complement SHI's bold and eloquent flow. Rich in banging beats and soulful samples. Elevate is an exceptional example of the recent renaissance of classic hip hop. Whether you're an old-school hip-hop head or just down with quality rap music, this new SHI 360 album is a banger.