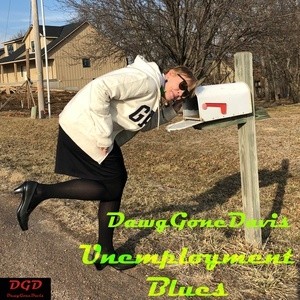 The latest studio offering from DawgGoneDavis opens with the cathartic dirge "Unemployment Blues," which shares its name with the record and sets the tone for all of the masterful hip-hop swagger skewed with stimulating, self-deprecating humor that is soon to follow its three minutes of galloping grooves. DGD maxes out the melody with a textured sax part that breaks up the tension in the overdriven guitars, but she hasn't even begun exploiting her tonality for all it's worth until we hit "I'm Here for Thee" and its eccentric, almost worldbeat-influenced rhythm. This rollercoaster ride of a record really starts to rip us in different directions at this point, and as anyone who presses on will find, the vibrant sway of "I'm Here for Thee" represents only a sliver of the magic that this EP has in spades.
"Groovin at the Louvre" slows things down for a minute with a synth part that is atmospherically woven into the bassline to create optimal physicality in the backing track. DGD's voice is subtle and smooth in the master mix, cutting a decisive line between the rigid grooves that will carry us straight into "Anthem Pandemonium" and its percussive assault. The focus is always on the lyrics and their typically absurd narratives, but there's still a lot of luster in the instrumentation guiding them along and presenting them to us in conventional, readily-accessible melodies that aren't so far removed from the mainstream that they dwell in their own avant-garde indulgences.
URL: http://dawggonedavis.com/
One of the most recognizable tracks for me on this record is "Forever Music," which really lit up the underground a little while ago when it was released to acclaim from the indie media and insiders within the KC hip-hop scene alike. It's definitely one of the more freewheeling songs on Unemployment Blues, but it doesn't overshadow the flamboyant camp of "Butt on Fiya" or her breakout single "Middle Age Woman – Hip Hop Style" in the least. DawgGoneDavis doesn't just know how to make really stylish rap songs – she's keen on what it takes to keep us engaged on multiple levels throughout the whole of a record, and while she's not shooting for a Grammy nod for Unemployment Blues, her approach to composing, and recording for that matter, deserves to be highlighted for its originality just the same.
Whether it's the big bad synthesizers penetrating the melodious verses of "Butt on Fiya" or the walloping bass of the title track, there's something for just about anyone who loves hip-hop with a twist in this record, and I'm not the only critic who is calling this DawgGoneDavis' very best work yet. She's yet to let us down with any of her studio fodder thus far, but she's come into her own in the last year in ways that most of us could have never expected her to. DGD is becoming one of the hottest stories of 2019, and if her new record gets a platform to reach the masses, I think it could well bring her, and her charitable cause in Operation Breakthroughs, the mainstream limelight that she's been working so hard to attain.
Gwen Waggoner