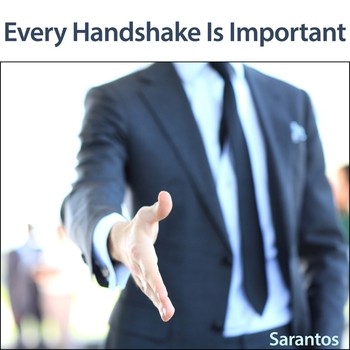 A celebration of true togetherness, Sarantos offers up a sage message on the joyous spirit of "Every Handshake Is Important". For this particular piece Sarantos plays around quite a bit resulting in a freewheeling, funhouse take on songwriting. His vocals are heavily treated and manipulated, becoming pure elastic at times. Melodically nimble the way the track builds something special to its cleverness. The ebb and flow of the work comes from the way the many layers interact and get ever so slightly tweaked. Going for a full-on tapestry for the narrative, Sarantos dives deep into the universal human experience.
The groove starts up immediately, with not a moment to wasted. Little details become ever more magnified with each additional moment. Various instruments find their own place. Highly personal Sarantos sings straight from the heart as his vocals keep on shifting in surprising ways. Pop, R&B, rock, and a hint of jazz all inform the entirety of the piece for as these all emerge at some point, the way it comes together feels uniquely his own vision. Towards the latter half of the piece Sarantos begins to let loose as the tempo speeds up and the whole thing becomes outright immersive. Percussion elements become ever more prominent with every single moment feeling like an outright party as the piece fades out in a gorgeous way.
Done with the greatest of care, Sarantos delves into a beautiful atmosphere on the carefully considered "Every Handshake Is Important".