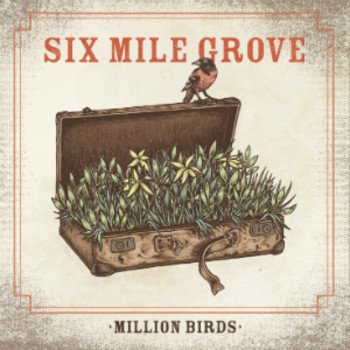 The album Million Birds marks Six Mile Grove's 20th year together as a band. It's also the act's seventh album to date, and it's a fine one. It's a release that asks the question, 'Why aren't these guys better known?'
Front man Brandon Sampson has a voice a little like Radney Foster's. This Lyle, MN band's songs are usually taken at a slower, more deliberate pace. It's as though these rhythms are suggesting that meaningful conversations take time. Same goes with music. They're in no hurry to spit out their thoughts, haphazardly, like a young punk band.
They've been around the block a few times already and know a thing or two about the art of musical conversation. "Shame on Us," for instance – especially with its subtle steel guitar – rolls with a warming country groove. "Not My Fault" picks up the pace for a song about the way friends react when bad things happen to good people. Even though these friends attempt to reassure him that what's happened to him isn't his fault, such reassurances simply don't make him feel much better – at least not in the short term.
It's easy to love how smartly this band makes its points. For example, "Money Doesn't Matter" is built upon a series of rhetorical questions. This is intelligent music. Not because the group uses a bunch of big words. They don't need to. Instead, there is an emotional intelligence running through these songs that reveal how they've thought out these lyrics before putting pen to paper and words to music.
A song called "Damned If I Do" is one of the album's quietest moments. Arranged over a finger-picked guitar part, and colored with sweet steel guitar, it finds Sampson singing reflectively about a past relationship.
The album closes with "Goodbye to the Loneliness," which is one of the album's few upbeat songs. It's structured around a slightly boogieing instrumental bed. It's a little like BTO's "Takin' Care of Business," in fact.
The album's title track is a love song. It begins, strangely enough, by talking about life in outer space, like the stories Sampson heard as a young boy. He's thinking about these stories because he's longing for a place to hide away with his girl.
Six Mile Grove's music is distinctly country, although those that only listen to mainstream country radio likely won't recognize it as such. This is because the group only uses elements featured in traditional country songs. You won't hear any of those annoying finger-snap beats, nor will you hear loud, pounding percussion and hard rock guitars. These players don't need these annoying over-doing-it elements to gain attention for their songs. Instead, these brainy and heartfelt songs apply a whole lot more subtlety to their arrangements.
You just don't hear the sort of honesty expressed with the song "Shame On Us" on the radio any more. On it, Sampson sings of trying like hell to hold on. It's refreshing to find someone unwilling to mince words. He's telling it exactly how it is, and such confessional writing is startling in is vulnerability.
Maybe you're tired of today's overly shallow music. If so, Million Birds is for you.
-Dan MacIntosh