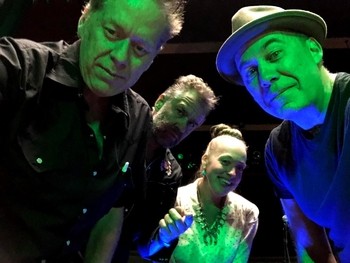 Miss Olivia & Interlopers create a beautiful bluesy realm on the simply lovely "Leaving You Behind/Blacklisted EP". Done with the greatest level of care the soulful vocals offer such passion. Sly grooves permeate the entirety of the two tracks while they explore the darker impulses via their thoughtful lyricism. Proving to be exemplary wordsmiths, they utilize narratives with a dreamy surrealist bent. Guitar work has a nimbleness to it, knowing when to pull back at just the right moment.
By far the highlight of the EP "Leaving You Behind" glistens. Patience becomes an ally throughout the track with the glowing keyboards adding an additional layer of ambiance. Never rushing anything the vocals possess a yearning quality. The choir further adds to the overall sense of purpose. With a clear-eyed intensity the piece focuses on when to end it, to find a new relationship. Getting over a relationship takes the right mentality, and the way that the lyrics prove how a more satisfying thing is right beyond the horizon feels rather soothing. On the closer "Blacklisted" they take a subdued tone. Almost funky at times, the spacious arrangement has a naturalistic quality to it. Featuring a bit of jazz in the mix, the loose rhythms lend the whole thing a great sense of elegance.
On "Leaving You Behind/Blacklisted EP" Miss Olivia & Interlopers delve into a meditative spirit one full of tremendous introspection, the kind of late-night thoughts that provide clarity.