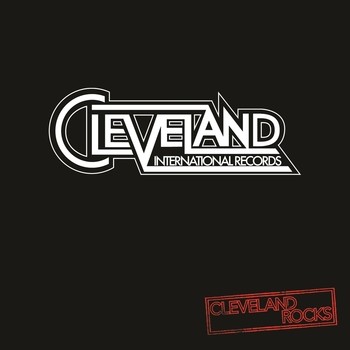 URL: https://www.clevelandinternational.com/
Music has come so far since the disco beats and bellbottoms of the 70's, but one thing that hasn't changed a bit is Cleveland Rocks, the gilded compilation LP assembled by the once-defunct Cleveland International Records. Now back in business, the classic label is reissuing Cleveland Rocks as a tribute to late founder Steve Popovich, Sr., but also in hopes of attracting a new thread of listeners unfamiliar with their iconic artist roster. In this disc, you've got everyone from Ronnie Spector & the E-Street Band to Meat Loaf, Essence, Mike Berry, Iron City Houserockers and Just Us Girls, and that's not even half of the track list.
Right off the bat, the big grooves that Cleveland International Records built their fame on are all over us in "Say Goodbye to Hollywood," Southside Johnny & the Asbury Jukes' "I Don't Wanna Go Home" and the Rocky Horror favorite "Time Warp," from a Just Us Girls in their undisputed prime. Despite the diversity of the lineup, the songs gel together remarkably well, and make a wonderfully eclectic playlist suitable for a number of occasions. If "Paradise By the Dashboard Light" doesn't get your chest pumping hard enough, Ian Hunter's titular "Cleveland Rocks" will without question.
Even younger fans of a more contemporary alternative sound won't be able to resist songs like The Boyzz' "Too Wild to Tame," Mike Berry's "I Am a Rocker" and The Rovers' "Wasn't That a Party," all of which had a lasting impact on pop that is still being felt today. These tracks sound as fast and furious as ever, and if you ask me, a lot more authentic and natural aesthetically than most anything on the Billboard charts right now. They symbolize turning points in rock history, but at the same time, they don't play out like boring homework assignments.
PRE-ORDER: http://smarturl.it/CLERocks_PreOrder
One thing that every single one of these songs has in common is that they boast more textural tonality than anything you're going to find in modern pop, and I'm not just talking about their instrumental content alone. There's a relevancy to these lyrics, in songs like Ellen Foley's "We Belong to the Night" and Essence's "Sweet Fools," that feels incredibly different than the mindless drone of the electronically-adorned verses of today do. Cleveland Rocks is excellently produced in this latest incarnation, and that certainly helps for us to appreciate just how complex and detailed each of these tracks are.
You would be hard-pressed to find a better LP worth acquiring this April than you will in Cleveland Rocks, and that statement goes beyond my opinions as a professional music critic. Cleveland International Records set the standard for a lot of indie labels that came after it, and in these thirteen songs, we're given a full-scale, Hollywood-quality document of who and what propelled their moniker into the limelight to begin with. This record is as good as it gets, and anyone who doesn't have a copy already situated in their vinyl collection would be a fool to miss out on this much-buzzed reissue.
Steve Popovich, Sr. was twice named Billboard magazine's National Promotion Man of the Year and won the Clive Davis Award for Promotion Excellence. His successes included Simon & Garfunkel, Boz Scaggs, Loggins & Messina, Bob Dylan, The Byrds, Santana, Janis Joplin, Dave Mason, Mahavishnu Orchestra, New Riders of the Purple Sage, Johnny Mathis, Chicago, Tony Bennett, Earth Wind & Fire, Taj Mahal, Miles Davis, Mott the Hoople, Johnny Winter and The Chambers Brothers. His son Steve Popovich, JR. has relaunched the label in hopes of championing new acts and re-releasing iconic titles.
Gwen Waggoner