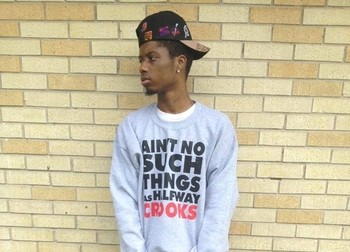 Prince Armani, whose artist moniker is a noble extension of his government name, is a 27-year-old rapper, songwriter and producer currently based in Houston. As a bonafide tried and true MC, Armani's impassioned calling stems from both his ability and his desire to help people have a deeper understanding of where others are coming from, a genuine mission that in turn is making him a prominent voice of his generation.
Growing up in Fort Worth, the Dallas-born rhymer studied the craft and history under the tutelage of his father, a producer working under the pseudonym The Mad Tweaker. Armani began placing a newfound importance on tactfully developing his craft as an MC when he hit his teenage years. Inspired by the tastemakers from the Golden Age and today's burgeoning class alike, Armani dropped his first proper release in 2012, displaying his sharpened technical abilities. After releasing ample material through a slew of mixtapes, and other projects such as The Prince LP (2015) and 16 Sixteens EP (2018), Armani wisely decided to hone in his knack for songwriting and share his versatility through his first cohesive full-length album, The Concrete Rose Theory.
While working on his debut project, Armani answered a call for submissions for Spike Lee's adapted Netflix series, She's Gotta Have It, with his track "Another Cold Summer" being chosen for inclusion. After the series premiered in late 2017, Armani used the momentum to perfect his debut album, further enforcing that sticking to his own path and working diligently on his vision indubitably yields the most rewarding results. With a focus on developing his live performance, filming a handful of conceptual visuals and working on new material, Armani is gearing up for a prosperous 2019.