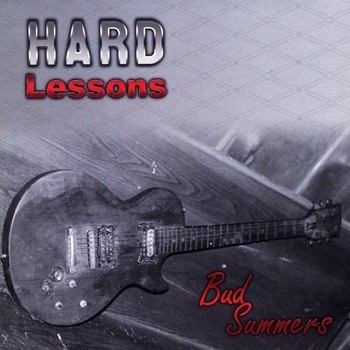 Bud Summers makes the guitar sing on the fiery blues of "Hard Summers". Raw grit and soul appear throughout the album as Bud Summers documents a hard-lived life. Arrangements go for a flawless take with impressive chops on display over the course of the incredible journey. Production values allow the entirety of the album a degree of intimacy. Vocals are front and center of the entire thing, with Bud Summers delivery reminiscent of Tom Waits at the height of his powers. Stylistically grounded in the blues, Bud Summers draws from rock, gospel, and a bit of jazz.
A thoughtful fusion introduces the album on the elegant "So Deep" which possesses a pitch perfect tenderness. Dreamy auras permeate the whole of "Endless Fantasy" whose incredible piano work has a lovely quality to it. Tension builds on the tongue in cheek approach of "Who's Your Daddy" by far the highlight of the album. Casual coolness dominates the tremendous scope of "City Of The Blues". With a communal quality is the powerful spirit of "Goodbye To Nashville". Elements of funk stripped down to the essentials is the hazy, dazed "End Times". Psychedelic experimentation reigns supreme over the wild and carefree "Auld Lang Syne". Perfectly bringing it all to a close is the reflective "Hard Lesson". Slowing the tempos down the song contemplates all that which could have been done differently, the regrets that follow a person for years.
Done with a sly sense of humor with a bit of poetry, Bud Summers creates a timeless classic on "Hard Lessons".