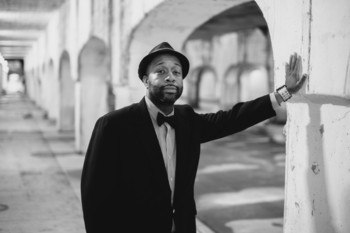 So here we are on a lazy Sunday morning here @skopemag. We are so excited as we have just the right music and genre to really keep your mind right as we ease into a new week. Today we get to chat with Jasper "Jazz" Myers. Multi-Instrumentalist/Vocalist/Songwriter Jasper "Jazzolosophy" Myers is a Chicago native. When it comes to music, there are few boundaries with Jasper; he knows sound architecture but breaks it with cross-genre pollination, unique melodies, deep registering and key changes, and rhythms with progressive syncopation; his goal to bridge gaps in music and continue to pump out that cool fusion sound. So join us as we talk about growing up around music, working with other artists with Myers Muzik Inc, Chicago, and so much more!
@skopemag: Where are we talking from today and how is March 2019 going so far?
JM: Heeeey Nah.. Good Evening..We are talking straight from Myers Muzik Inc Studios str8 from Da Chi (Chicago) Baybee!! Live and Direct!! Ha Ha…lol… March 2019 is going GREAT…Its been VERY BUSY for me, as I am getting ready for an album release party in just over a week…WHEW!! But I am EXCITED!! Smiles
@skopemag: At what age did you take to music and how prevalent was music growing up?
JM: Music was VERY Prevalent in my household growing up as a youngster. I remember My mother and stepfather had the most interesting record collection, I Mean there was like a variety of sounds in our household that me and my siblings came up on, and I just absorbed EVERYTHING, not knowing what it was setting me up for in the future, as that diversity of sounds is what informs my music today. I was 4 years old at the earliest I can remember and I remember growing up around Northern suburbs of Chicago and being hooked on the sanguine sounds of the Smooth Jazz Radio Station in Chicago WNUA 95.5, 107.5 WGCI, Power 92.3, B-96 (96.3), 102.7, etc…I remember hearing a track by Paul Hardcastle called "Rainforest" and that took my breath, heart, mind and soul at that age, and I knew then that Music was gonna be my calling. I sang at home (all my siblings, we were always trying to out sing each other) lol.. I remember taking classical piano lessons at 8 on an organ, I had switched to baby grand piano. And then when I was 16 I was twisting knobs on a cheap Casio keyboard making beats for my cousins who had their own rap group, and making beats for my younger brother who would rap. Starting making music and fusing tracks together at a young age and that is how I got my start.
@skopemag: When did you realize that music was more than just a hobby but rather a career potential?
JM: I realized that music was more than just a hobby when I was 22 years old, I started crafting beats and music for local artists and producing Hip-Hop/Rap acts and RnB singers. At 25 I had crafted my first Instrumental Fusion jazz record called "The Acoustic Album" which propelled me to start taking it serious once the people started feeling it. Also right after High School, I went to college for Radio Broadcasting and I had a really good internship under the tutelage of a dear friend of mine named Tommy LiAntonio (RIP 2008) He was a Great Friend, and took me under his wing at a smooth jazz radio station in Milwaukee, WI called Smooth Jazz 93.3 WJZI. I was what was called a "Bus Boy" we would emcee local clubs (jazz and non jazz) and introduce the bands whether they were local or record industry and kind emcee around different clubs around Milwaukee, and then we would go and work the graveyard shift overnight. I was what was called a "Bus Boy" I would have to go and pick the recoirds off of the shelf that was supposed to be played the next hour and have it ready for the On Air personality who was my friend Tommy. And since I have such a smooth, Deep, Baritone voice. I was able to speak over the air a few times during the night. Lol.. There were a few times where I had a few of the ladies call into the radio station asking who I was.. Hee Hee…lol
@skopemag: I have been loving the new tunes at – Soundcloud.com/thejazzmaster. How has the response been?
JM: Thank You Sir!! Man, the response has been very Good so far. For years some of my Biggest Fans have been asking me to craft a whole RnB/Neo-Soul record for years and now they finally got a real Nice, Feel Good Record, one that I feel would strike a chord with most of the fans and people that are hearing it for the first time.
@skopemag: Besides being a musician you run Myers Muzik Inc. Can you speak on what that is all about?
JM: Myers Muzik Inc is all about just putting out Really Good Music. I am/have been working with some local artists and up and coming artist, and I want to give them, my listeners, their (the artists that I work with listeners) a really good listening experience. I want people that are listening to be like WOW…I've never heard that sound before, or I've never heard a track arranged like that before. I just want the music to be hittin' and sounding good on all my projects and all artists projects that I am going to produce.. Myers Muzik Inc is all about Branding my sound, which is basically NO Signature Sound, No Formulas.. Just Creative and Great Work on Different Projects…Stuff that FEELS Good to the soul…and thats what Music is Actually all about FEELING.
@skopemag: When do you find that you are most inspired to create songs and do you use real life experiences?
JM: I find that artists, musicians usually create from a standpoint when they are emotionally High or Emotionally Low, as that is what Drives Music. There is usually no in between. It's Hard for me to be inspired to write when nothing major or dramatic or interesting is happening. Even when I'm just creating my instrumental works. Like something has to hit me to be able to create. a sound, a mood, a feeling, an emotion, etc. I LOVE using real life experiences. They are the realest thing that humans can relate to..I feel like as a musician/producer there is a vulnerability in bringing the real life experiences in your music, its what makes the music unique and inspiring.
@skopemag: When you are not making music what else do you enjoy?
JM:Oooooh I am an all around diverse person and enjoy a multitude of things outside of music… I LOVE to travel, and am very inspired with what I see when Im traveling. I Like enjoying spending time with my family, kids, and friends, I LOVE to try new places to eat when I am out of town…Places that I've never tried. Im a BIG Fight Fanatic, so I enjoy watching Boxing and UFC Fights and other Mixed Martial Arts. I LOVE Listening to music as much as i enjoy playing or producing it. I LOVE Thought Provoking conversations, and sparking different ways to think about certain subjects. I am a BIG Philosophy Buff…so I enjoy studying Philosophy and different cultures. I like to people watch (weirf right??) I am a very easily amused person soooo I enjoy a gut clinching stomach laugh…All My friends and closest people to me know that there is not one time they will encounter me and I NOT say something funny, or that I will often times smile because I am truly a joyous person to be around.
@skopemag: I love your song 'Destiny.' If you were to make a music video what would the visuals be?
JM: Thank You Soooo Much for that!! Destiny is a very futuristic song, drenched in old school soul music. When I co-wrote the song with a fellow songwriting friend of mine named Sarah B. Tonin, who was actually the vocalist for that track. When I first heard hervoice, I knew that she was definitely suitable for the track, I dialed her up and asked her if she would write the verses for me, as I had already had the chorus written and she totally delivered. The visuals I have for this track if i were going to make a video is…I would picture me in a space ship as I am in it and the space ship is floating away into the stars and the song is being sung, I picture another space ship floating right next to mine, and the person that is in the space ship next to me is my girlfriend and we are both floating at the same speed, as I am searching for signs of life and trying to find my Destiny but my destiny ends up being her as we come to my landing as we land in an enclosed area where its just her and I and there is no where else for us to go. and the video would be with me ending up kissing her and hugging her because at that point I know that she is definitely my Destiny.
@skopemag: What is your favorite music streaming platform? Mine is Amazon Music.
JM: Yeah I would say mine would have to be Amazon, but then I Like Soundcloud, Bandcamp, Spotify, I-Tunes…there's some really good ones out there, but yeah I would say Amazon would definitely corner the market for me on the music.
@skopemag: How has coming up in Chicago set you as a man and a musician today?
JM: Chicago has had a really strong HOLD on me as a man and a musician, because for one as a Man, WE GRIND Here…We work HARD…Its the midwest soooo we are known for building things, working hard to provide for our families and we have that NO QUIT Tough Mentality so we're very strong natured in that regard. As a Musician it has definitely taken hold on me because of all the diversity here, diversity of different ethnicities, cultures, foods, music, people, beliefs, systems, etc.. so that has also shaped my music as well… because Chicago has a really Good Blues, House, Jazz, Dance Music scene, but there is just sooooo much to absorb here. I Dont see how an artist could just be one thing. I think youre starting to see music artists start to branch out and do more things now even. their resumes have a different and loaded color palette because singers/rappers/artists are taking a hand in more actively writing their own music and even producing it even more now…So yes Chicago definitely has had a strong hold on who I am today.
@skopemag: What is coming up for Jasper "The Jazzmaster" Myers and where you @ online?
JM: Ahhhh There is a lot coming this year for The Jazzmaster. I am producing many local and up and coming artists, while pushing the brand and the website, but also am planning to release another Instrumental Fusion jazz record later this year in 2019 called "Harmonious" that one is gonna be TIGHT…I am excited to be releasing that one… Harmonious is gonna blow Jazzolosophy (2015) out of the water.. I also wanna put out a double disc record in 2020, the first one being an all Hip-Hop record…Im talking about the graffiti spraying, breakdancing, b-boy'ing, DJ'ing, Turntablism, Lyrics Driven Hip-Hop. I will of course be the Beat Conductor on that record, but I wanna work with Quality Emcees that I have worked with over the years and some really good RnB/Pop vocalists for some of the Hooks, Maaaan that Album is Gonna be STOOPID!! Ha Ha…The second disc I have already started, it is a Classic Rock/Blues kind of record. And That One is gonna be a very Good Eclectic Record, and that double disc record will be called "Hittin' On All Cylinders" Gonna Have tons of treats for Youz Guyz in the near Future so STAY TUNED and for this record that I'm dropping soon, Do Me a Favor When You Cop It?? PUHLEESE TURN IT UP!! Ha Ha…lol