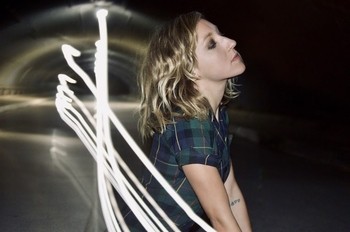 Baltimore born, Los Angeles based artist Lauren Lakis, graces listeners with her signature sound of lo-fi garage rock. Narrating some of life's deepest and darkest moments, Lakis' use of honest and resonating lyrics will sink into your soul, creating an immediate connection with the singer. The hand-crafted rawness of her sound bellows deep and true, unscathed by the prevailing winds of today's polite rock.
Inspired by the challenges that life throws at you, Lakis purposely immersed herself into experiencing arduous and uncomfortable situations. Having looked up to fearless women as a child, the songstress was determined to live her life as real and unapologetic as possible. Wanting to discover what it's like to lead the lives of as many different types of people in the world, Lakis spent nights writing poetry with junkies in abandoned warehouses, taught English in Prague and Tokyo and both a stripper and yoga teacher in Baltimore and helped as a mentor for kids with Autism. These challenges gave her a whole new understanding, opening her eyes and learning empathy and compassion for others which ultimately infiltrated her songwriting.
Following the release of her debut full length FEROCIOUS, Lakis is delivering audiences with the highly anticipated Sad Girl Breakfast. Written exclusively on her baritone guitar, the release exudes a darker, deeper tone. Thematically the EP narrates the resignation that comes with realizing the cyclical nature of existence. Lakis reveals, "Time passes, life changes, relationships come and go, and it just keeps happening in this perpetual dance until we die. It might seem like a bleak outlook, but for me it's liberating because nothing that happens to us needs to carry so much weight".