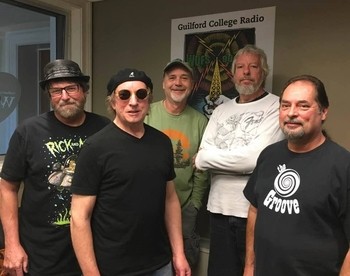 In today's fast paced environment where everything is here today and gone in a few seconds it is refreshing to know that somethings still survive. For music fans of the 70's to the 80's it would be band's like Rich Lerner & The Groove, an old school band from down South who never let go of the music that was full of passion, sweat and tears. They not only did not let go but captured that magic in their music on every album they have released. Currently, it would be the album entitled "Jammin' with Juma".
The leader of the band is Rich Lerner who considers him-self lucky to have grown up during the Golden Age of music. His very first album was the Beatles "Let It Be" which soon joined albums by Jimi Hendrix, Santana, Rolling Stones etc. This music ended up being a major influence for him on his road to leading the band. While he attended Duke University he played in a few bands as a percussionist. Yet he would soon pick up the guitar to bring his own lyrics to life.
This was when he moved back to Greensboro, North Carolina while he was playing with a band called Cool Louie. Rich would release many tracks over the years his first one was with the band Broken Ice. The members were Dave Talley, Mark DeJarnatt, Craig Pannell, Chuck "Uncle Charles" Stancil, and Bruce Keyes. The album was entitled "Thru the Rubble". Soon Rich felt like he needed focus on his own music and would release a solo acoustic project called "TIMBER AND STEEL". It was put out by the label Rockduster that also handled another three of his albums. It was released in 1988 and sparked a desire for Rich to pull in some artists and began jamming and playing at select venues. Dave Talley the bassist stayed with Rich until 2013. They would play as a cover band of Dylan music and released a demo tape entitled "NAPOLEON IN RAGS" which was well received.
After a few more releases and a band alteration the name Rich Lerner & The Groove stuck. They would soon release a project with all original music entitled "DARKNESS AND LIGHT" in 1994. In 2008 "Greetings from Groovesboro" was released and received rave reviews. Also in the 2000's came expanded members and new releases "Cover Down" and "Vanishing Moon". Their more current albums were out by Free The Music Records. The band received many accolades from College Radio. In 2012 the band with other artists felt they needed to give back to the community and founded the Groove Jam Music Festival which was set up to raise funds for the homeless. Since then it has been running for 7 years.
"In 2018 we raised over $19,000. I was inspired by Warren Haynes of the Allman Brothers and Gov't Mule who has an annual music event to benefit the needy in his community and I thought I could pull off something on a smaller scale in my own. The band and I like the idea of combining music and charity for a fun event," said Rich.
There have been many talented artists who have worked with band over the years like; Earl Austin, Bob Sykes, Craig Pannell, Sam Seawell, Sammy Smith and Steve Taub. One of their favorite locales to play at is the Doodad Farm. This is where the birth of the Groove Jam Music Festival was first held. Currently, the band has released a new album entitled "Jammin' with Juma" which basically pays homage to Juma Sultan who once performed with Jimi Hendrix at Woodstock as a percussionist. Juma recorded the album with the band as their special guest.
In 2015 the band took part in a celebration of the Grateful Dead's 50th Anniversary at the Crown Room above the Carolina Theatre. In 2019 the band is focusing on a radio campaign which has already garnered airplay at over 100 stations nationally. They are also planning on playing a few festivals on the heels of their new album. Besides the festivals they are going to take part in the Woodstock Experience
in West Jefferson North Carolina on August 10 in commemoration of the 50th anniversary of the original Woodstock. Rich Lerner and The Groove are living up to their rep as talented artists with a lot to offer the old and the young rockers. To stay up to date with their music and shows check them out by visiting;
http://www.freethemusic.us/
https://www.facebook.com/www.freethemusic.net/
https://instagram.com/groovejamgso/
By Nick Christophers