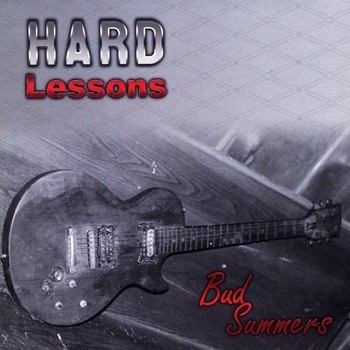 Bud Summers titles his album Hard Lessons, and the first teaching moment arrives with "Endless Fantasy." The lyrics describe a woman far too caught up in the Hollywood scene. Summers drives the tune with a jazz chord rhythm as he describes this girl's sad, desperate life.
Summers' sound can be jazzy, as with "Endless Fantasy," but also bluesy. "Bad Fish," another warning song of sorts, is built upon a gentle blues grove colored by acoustic piano. Summers takes a stinging, precise, but not show-off-y guitar solo on it. One must wonder how much of the latter's lyrics are intended as double entendres, though – especially when Summers sings about one guy's pole beginning to ache. Fishing poles don't feel pain, but male anatomy can.
No matter what he may be singing, though, Bud Summers most always comes off as a soft-spoken gentleman. "Who's Your Daddy," which has the same title as a bawdy love song by Toby Keith, here is more of a music hall delight, which includes spritely piano.
Gentleman Summers, nevertheless, knows how to play the blues. The aptly titled "City Of The Blues" finds the man doing just that. One imagines the city to be Chicago, and on this track, Summers throws off some mighty tasty electric guitar licks.
"Goodbye To Nashville" pays respect, of sorts, to another famous musical city. This town, though, is better known for its country sounds. Summers sings about leaving Nashville for Memphis. It reminds one of "Memphis In The Meantime," an old John Hiatt song. Hiatt bemoaned the way Nashville can sometimes get a guy down. He can only take so much country music and needs to get to a place where steel guitars aren't played at all and where the blues is amped up loud. This Summers song isn't quite like that, however. Nevertheless, you're left with the lasting impression that Summers is so much more a Memphis guy than a Nashville cat. This track also features a wonderful, gospel-y backing vocal 'choir,' which makes it stand out among the rest of the album's songs.
One titled "End Times" is one of the album's rawer tunes. With its religious-leaning lyrics, it has an arrangement built upon little more than Summers' electric guitar. It also features Summers singing with a gutsier voice. It's a rare track, indeed, especially when compared to what comes before it. It's not as raw as, say, Robert Johnson. Even so, it's as Johnson-esque as this album gets. Its words set a distinctly apocalyptic tone, similar to Blind Willie Johnson's "John the Revelator." In a sense, Summers is sending out a warning to all sinners with this song.
The album's instrumental take on that New Year's Eve standard, "Auld Lang Syne," is a bit of a surprise. It's a scorching take; it's just a little unusual to hear this song played this way.
The album closes with the title cut, "Hard Lesson." Unlike other mostly guitar-centered tracks, though, Summers sings it over (mostly just) piano. It's a relationship song, where Summers comes to terms with a failing relationship – albeit too late.
Bud Summers is a fine player, and a passable singer. If only he were also a great singer, this album would be so much more powerful. Nevertheless, he writes and plays good songs, which makes this album well worth your attention.
-Dan MacIntosh