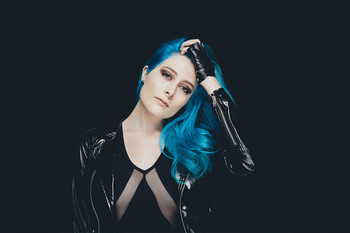 Coming from Boston, DIAMANTE is a hardcore artist and ready to revive the rock 'n roll scene with a modern alternative twist. She is the epitome of sugar and spice: a bad rocker girl attitude with the girl-next-door personality. The 80s influenced musician was first exposed to rock music at 14 years old during a School of Rock summer program. In addition to her music career, she's also a full-time student studying business. Her biggest idol and dream collaborator is Joan Jett. DIAMANTE's goal is to bring rock music back into the mainstream; she wants people to know that rock is not dead, nor dying anytime soon as long as she is in the industry.
Past tours have seen her supporting Five Finger Death Punch, Bad Wolves, and Shinedown, and this year, DIAMANTE will be touring with Breaking Benjamin in the U.S. and Canada. DIAMANTE's style, confidence, and powerful voice got her signed to Eleven Seven Music Group and Better Noise Records in 2015. Grammy winner Howard Benson produced her debut album Coming in Hot; Benson claims that DIAMANTE is the only female that can fill Joan Jett's rock 'n roll vacancy.
DIAMANTE's latest music video, "HAUNTED," has already surpassed three million views on YouTube. Energetic, liberating, and expressive, the clip is a perfect compliment to the song. With black attire and a black room, the instruments and vocals are meant to be the focus. She envisioned the song to be a "punch in the face," with a guitar that grabs the listeners right away. The look DIAMANTE gives the camera embodies her diamond name, as her eyes sparkle with mystery and fearlessness.
"Haunted" is a sequel to "Sleepwalking," where she is the one that deals with the pain of a terrible breakup. After time has passed, "Haunted" takes the perspective of DIAMANTE as she gets over the heartbreak and grows stronger from it. Meanwhile, the person who hurt her is just realizing their actions and is now regretting it so much that memories of DIAMANTE are haunting them.