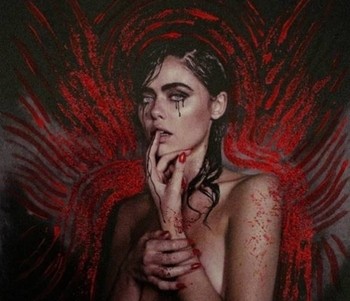 Kristina Bazan, 24 years old, is a multi-faced talent. From multilingual international fashion girl to author and singer, she is widely considered as one of the most famous digital influencers in the world. Originally from Belarus, she's been living between the United States, Switzerland and Paris.
Among her numerous achievements and awards, Kristina wrote history by becoming the face of L'Oréal Paris and was ranked by Forbes as one of the most influential "30 under 30" personalities of 2016. She has also signed with Yves Saint Laurent as their first "beauty-music talent" and has racked up over 2.2 million Instagram followers.
Currently, Kristina is focusing her career on music which has been her lifelong passion. Signed to the independent French music label E47 Records & Live Nation, she recently released her debut EP 'EPHV1' in 2018 to much acclaim and is getting ready to release her debut album 'Honey & Venom' in 2019. Her influences are disco & glam rock… bands like Goldfrapp with their "Strict Machine", Blondie's "Heart of Glass" or even the melancholic yet sweet first few notes of Chris Isaac's "Wicked Games". Her music reflects Kristina's new self, a new vision and creative approach with an aim towards a more introspective, darker and subtle story-telling, talking about her past, future and relationship with the digital world.