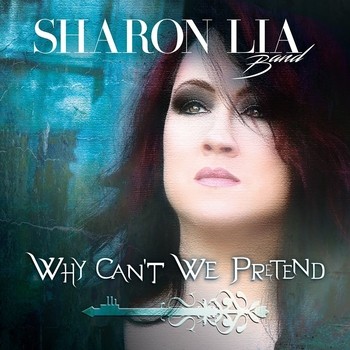 The Sharon Lia Band embraces a spirit of defiance on the passionate "Why Can't We Pretend". Resting at the heart and center of the entire song are Sharon Lia's bluesy, soulful vocals. Lyrics have a romantic tenderness to them while the arrangement further emphasizes their power. Elements of pop, classical, and rock come together to create a stream of consciousness take. Careful buildup adds to the overall power of the track. Melodies glimmer within the song's very DNA as they linger in the mind. Instrumentally colorful the Sharon Lia Band incorporates a great variety of textures within the track.
Elegant piano introduces the work. Sharon Lia's voice has an intimacy to it always making sure to have a reflective quality to her words of sorts. By letting the atmosphere gradually build up when the song comes into full bloom it feels particularly earned. Rhythms start to let the song rush forward in a way that becomes all-consuming. Guitars soar up into the sky perfectly merging with the gorgeous string section. Quite sweeping in scope her voice rises above the rest of the arrangement in a way that becomes truly stunning in a way. Throughout the piece the melodies shift and change, as the initial sadness transforms itself into a grand approximation of joy, of conquering one's own fears in a way that feels uniquely honest.
"Why Can't We Pretend" shows off the undeniable chops of the Sharon Lia Band in sculpting a timeless classic sound.
Site – https://www.sharonliaband.com/
Promotions & Distribution provided by Bongo Boy Music Group / Bongo Boy Records
About – Sharon Lia Band began working with Grammy-nominated producer David Ivory (Halestorm, Silvertide, The Roots) in 2017. Says Ivory: "I love working with Sharon, her vocals are stellar, and her songwriting is contagious' and dubbed the band as "Awesome eclectic, piano driven progressive pop!" Huffington Post praised "her genuine lyrics and sonic innocence and vulnerabilities pierces the hearts of her listeners leaving a lifelong impact…" Having their music considered for a Grammy, Sharon winning JMA's "Best Female Artist" & the band performing at festivals including Firefly were highlights of 2018.