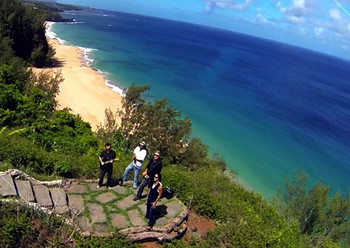 A Californian of British descent, Phil Jones moved to Kauai in the year 2000. His background as a musician dates to his early childhood singing and playing guitar in numerous bands including Mad Tea Party in Hermosa Beach. He is a UCLA graduate and attended graduate school at USC.
Phil's song writing is intended to inspire positive change, religious tolerance, racial equality, peace and personal evolvement in a fast paced and changing world.
The new single with accompanying visuals for "Wild Honey" doesn't stray from the bands traditional works and is a feel good tune bringing that summer time feel.
Phil Jones currently lives on the north shore of Kauai with his wife Ashley, daughter Kalina and son Bodhi. In addition to spearheading the Phil Jones Band, Phil founded and runs Pure Hawaii, a custom spa private home resort throughout the Hawaiian Islands.