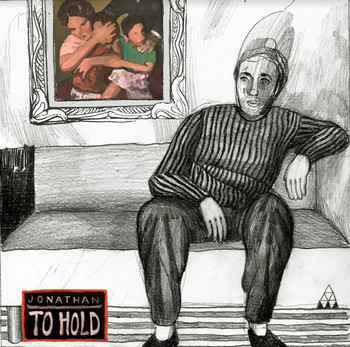 FACEBOOK: https://www.facebook.com/thebandjonathan/
Some rock bands are more than content with following a popular trend or whatever direction their scene is currently going in, but in the case of more sophisticated groups like Jonathan, forging ahead on an uncharted path is the only conceivable option when it comes time to make a new record. In the Croatian sensation's latest LP, To Hold, Jonathan take the wavy sonic oasis first sampled in Bliss to an expanded level of indulgence and, arguably, create an album that culminates all of their immense talents in eight unapologetically entrancing songs. This is their moment, and they aren't wasting it with a record that doesn't change the game both for themselves and their scene.
Let's take a look at "I Never Meant to Be There," one of the cornerstones of To Hold, first. Wedged between the violent "Something to Cry About" and "I Don't Mind," a collaboration between Jonathan and Lovely Quinces, "I Never Meant to Be There" sports a subtle rhythm that is just itching to break free in the chorus, but I think that it's the song's sparkling percussive track that leaves the biggest crater in the master mix. It follows the bass like a shadow, peering around every corner just as we are, trying to keep up with the strut in the strings.
"Monkeys," "Seasons" and "Wake up Call" sort of sum up the multidimensional identity that Jonathan have created for themselves, and moreover, distinguish their strain of alternative rock from similarly stylized American efforts. There isn't any garish percussive skipping, plastic-faceted riff rock or robotic basslines that refute the very notion of thinking outside the box in this record – only experimental melodies executed with a superb attention to detail. This is the thinking individual's rock album, and it's certainly one that I find far more charming than anything else we've heard so far this season.
Nothing about To Hold is overstated or decidedly excessive, though "Gone," "Monkeys" and "I Don't Mind" obviously flirt with the grandeur of late 80's/early 90's shoegaze openly. Jonathan don't cheapen their music by trying to recreate the volume of My Bloody Valentine in this record, but I do think that it bears a certain conceptual resemblance to Lovelessjust the same. The music is larger than life, but the melodies and the lyrics that they support are relatable and unclouded by the mighty thunder of the instrumentation. Jonathan have figured out how to straddle the line between two of rock's most coveted sounds, and that alone is reason to give this record a spin.
The most anticipated album of March exceeds what I was hoping it would be around every one of its many musical twists and turns, and though I wasn't extremely familiar with Jonathan's work prior to this release, you'd better believe I'll be keeping them on my radar as time goes by. They've discovered a vicious formula that I really can't wait to hear more of, and with the momentum that they've got behind them right now, they're commanding a lot of respect both at home in Croatia and abroad.
AMAZON: https://www.amazon.com/Hold-Jonathan/dp/B07B49P2JM
Gwen Waggoner