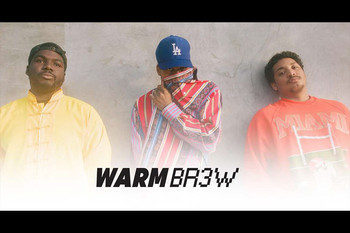 There's everybody else's way, and then there's WARM BREW's way. As high school friends who grew up on laidback legends like De La Soul and even the Doors, it was all about the flow, not the game and the fame. The LA trio cut their own path through multiple label deals, numerous well-received singles and albums that have seen their style congeal and their rep grow. Ray Wright, Manu Li, and Serk Spliff have been kicking it together since the salad days – that is, when they weren't just hanging out by the beach, soaking up the sun while the backseats of their cars soaked up some warm brew.
In "PLAYER WAY" featuring Wiz Khalifa, they lay down the law that they call the shots. But instead of barking bars over a bat-to-the-head beat, these guys let their lifestyle speak for itself. "Player Way" keeps it low-key – because after a string of releases that just barely keep their fans satisfied, they've got nothing to prove here. The trio has solidified their spot in the Southern California rap scene and recently bumped up their national profile with well-received North American dates supporting Dom Kennedy, hitting Chicago, New York, Toronto, San Francisco, and more.
http://www.warmbrewla.com/
Speaking of dudes who only do things the player way, Wiz drops his signature laconic rasp in the hook, an invite to players everywhere to roll up to Warm Brew's party. Subtle, muted keys over a chilled-out beat set the tone for an all-day, all-night party where everyone's popping and passing bottles — and whatever else they've got on them.
"Player Way" was directed and animated by Tristan Zammit and Alex Sarzosa, who, between them, have put visuals to singles by Method Man, Lil Yachty, A$AP Ferg, and a whole lot more. Chris De La Rosa penned the video's tale of hotties, parties, adoring fans, betrayal, redemption, and a heist involving a team of race cars pulling the Warm Brew crew off into the sunset. You'll have to watch this one yourself – and a few warm brews beforehand might help.