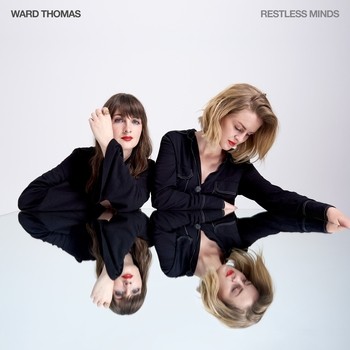 So here we are on a Friday and we are so honored to have Ward Thomas join us here @skopemag! Rising UK stars Ward Thomas recently released their eagerly anticipated gem of an album 'Restless Minds', the follow up to their UK #1 album 'Cartwheels,' out now on WTW Music/Sony Music. They also have their amazing new video here for 'No Filter.' Join us today as we head into the weekend with Ward Thomas!
@skopemag: Where are we talking from today and how's your day going so far?
Today has been a good day, it started with a long fresh dog walk, and we are now en route to The Brits (The Brit Awards)!
@skopemag: Can you tell us the backstory on how you two, twin sisters decided to join each other on a musical journey?
We sang together from a very young age, mainly because we had such a musical family, we experienced a lot of singing and live music first hand as our parents were in a covers function band. We joined the choir at our local school and were sorted into soprano (Lizzy) and alto (me Catherine). We started to practice our harmonies at home which was how we started singing together. After we joined our sixth form college, we started songwriting lessons and as soon as we started writing songs together we started to seriously consider the idea of going into music as an actual career option. And the rest is history! 🙃
@skopemag: How have your parents & friends been supportive of your passion?
Extremely supportive! We are all very close and it's very much a shared passion!
@skopemag: Why did you decide to call the group, Ward Thomas, your family name, and have you created music under any other moniker?
We called it "Ward Thomas" because it's our surname and we could never agree on any other name! Haha We haven't ever created any music under any other name as of yet…
@skopemag: Your new album is out now, 'RESTLESS MINDS'. How long were you working in this collection of music and where did you record?
About 18 months probably… we wrote a few of the songs years ago, and some really recently but the album came together slowly as we really wanted to take our time with it and make sure it was right! We wrote the album between London, Nashville and Hampshire and recorded the whole thing in London at a few different studios.
Hear the album here: http://smarturl.it/WardThomas_RMPV
@skopemag: How did you approach this album so that you keep it unique from your other successful releases?
We approached it as a blank canvas, we felt like "Cartwheels" was its own thing, it will always be there to hear, but "Restless Minds" is a new baby, that is more relevant to who we are right now. I think that we naturally approached it differently as we feel we, as two individuals and as artists, have evolved a bit over the last few years, mainly due to our age and how much you change in your early 20's…
@skopemag: I love the video for "No Filter." What made you choose that song as the lead single and how did you come up with the visuals to express the story of the song?
No Filter always felt like a special song to us, we felt really connected to it. It felt like the right song to be the lead single because, sonically it has moved us away from Cartwheels in some ways, but we still feel that it reflects a lot about the Album. We decided to push the boundaries of "filters" in the video, we wanted to dive into the deeper side of the "No Filter" concept and show a raw and honest narrative, reflecting the agony some people are in and how exhilarating it can be when we let go of what is "expected" of us.
@skopemag: When you are not making music what else do you enjoy doing?
We are very outdoorsy, we love a good walk or horse ride. But when it's raining we are very keen on binge watching our favourite show "Gilmore Girls"
@skopemag: Being that you are based in the UK do you feel like there is a difference in approach between UK and US music fans?
I think the core is the same, we all love music for the same reason in the end.
@skopemag: What's coming up for Ward Thomas and where can readers find you @ online?
We are hitting the road in a few days and we will be all over the country! You can find us on our social pages which we are very active on! Especially Instagram!
FOLLOW WARD THOMAS AT:
Facebook: @wardthomasmusic
Instagram: @wardthomasmusic
Twitter: @wardthomasmusic