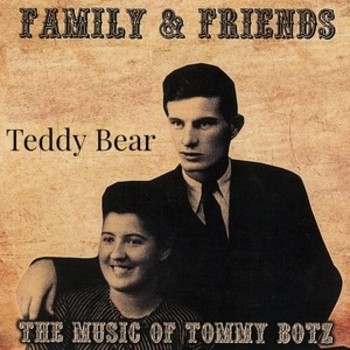 A chiming melody emits its charming glow from a distant piano in the opening bars of "Teddy Bear," the new single from songwriter Tommy Botz, and soon it's joined by the enraptured crooning of a loving feminine vocal that wraps around us tightly but stops shy of smothering us in its warmth. The rhythm is pendulous and patient, but there's a growing urgency in the strings that begs for us to follow their sorted trail into the core of the harmony they're conjuring for us. While the percussion is muted next to the heavy wallop of the vocals, it presses against the bassline and nudges us through each verse at a tender pace, as if to emphasize the importance of the lyrics it frames with each of its staggering beats.
The sound of children laughing and playing penetrates the instrumentation and draws us into the imagistic words further as we near the chorus. There's a lot going on in the strings at this point – in one half of our speakers they're crashing into each other and creating a tonality that is utterly hypnotizing, while in the other they're being dragged asunder by the boisterous bass, clearing room for the vocals to cast a spell over us with their lustrous delivery of the words. It would be easy to fall in love with this song because of its uniquely designed lyrical bite, but at the same time I think that the melodies themselves are so evocative that, without them, the poetry might not be as relatable as it is in the state we find it in here.
URL: http://www.adrunksdreamcomestrue.com/
Running less than five minutes in total length, you wouldn't think that "Teddy Bear" would be able to stretch its creative ambitions very far beyond what we'd normally expect to find in an anthological country single, but that simply isn't the case. There's a taste of rock n' roll grit, a dash of jazzy swing in the underlying pace of the drumming, and even a mild flirtation with sophisticated pop hooks in this track that make it a much more enticing listen than most anything on the Billboard Country charts as of late, but I doubt that Tommy Botz composed this song as an all-encapsulating sampler of his style. It's too sleekly produced, too humbly crafted for me to think that this is anything other than Botz being Botz without the pressures of an artistic agenda to limit his creativity.
When "Teddy Bear" retreats into the glistening harmony of keys that welcomed us in the introduction, we're left with a silence that makes for the perfect setting to think about the emotionality of the statement that it has just presented to us, and after several dedicated spins, I came to the conclusion that Tommy Botz's latest single is among the most literate and passionate I've heard thus far in 2019. Whether you're a big country fan or completely disconnected with the modern Nashville sound, you're going to want to give "Teddy Bear" a shot this winter. It's a prime studio recording from a songwriter who is bringing a little bit of humanity back to the American soundtrack.
Gwen Waggoner
The music of TOMMY BOTZ has been heard all over the world due to the radio plugging services offered by Musik Radio Promotions. Learn more – https://musikandfilm.com