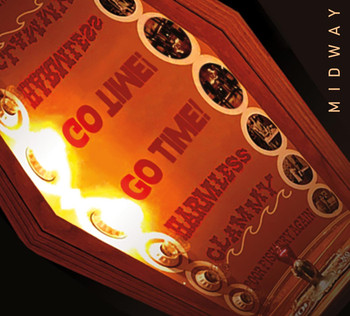 BANDCAMP: https://gotimeband.bandcamp.com/
Conveying raw emotions through visceral riffage and ripping vocals is what Go Time! do best, and they continue to affirm themselves as one of the last true blue rock bands to do so in their brand new album Midway. With nineteen different songs that each stand on their own as star-quality rock tracks, Midway is bursting at the seams with content, and yet it doesn't contain a drop of filler. Go Time! treat us to juggernaut balladry like "Ghost Inside of Me," "Next Time," "Second Best" and the riff-riding "Best Intentions," but make no mistake about it – this is a party record through and through.
"Every Little Everything" and "Disparity" utilize pop structures that are colored with a reckless abandon that is easy for anyone bogged down by a nine to five sort of life to embrace. In other songs, such as "Hole in My Mind," "Role Reversal" and "Scraps," boundaries between genres are defied and crossed over with impunity, as Go Time! remind us that they aren't about to shape their creativity around anyone's concept but their own. Their dynamic experimentalism is firing on all cylinders here, but it doesn't keep the music from having a generous, mainstream charisma in its construction.
"Sweet Ever After," "Reprise" and "Satisfaction" fuse punk rock's simple arrangements with a rich, classic rock-style tonality that transcends the stark master mix. It's conflicting in theory, but by contrasting the substance of the melodies in these songs with the overbearing textures in the mix itself, every element within the music ends up becoming so much more gripping and interesting to listen to. I wouldn't call this Go Time!'s foray into noise rock, but they certainly flirt with the notion on this record and openly use its somewhat formless approach to composing.
Blistering drum play is a huge component of Midway's attractiveness, and I think that while the crashing guitars and brittle vocals that find themselves smothered by all of the resulting feedback are chill-inducing in their own right, it's the percussive element that kept me coming back to these songs over and over again. "Satisfaction" and "Parting Gift" are prime examples of rock n' roll drumming as it used to be (and still can be, apparently), and they set the bar high for any band trying to achieve the same success that Go Time! has found in their time together. Even if I weren't a musician myself, it would be impossible to deny how much chemistry this group has as a unit.
If you're like me and have never stopped believing in the spirit of rock, even after all of the strife and struggles that the genre has faced in recent memory, then Midway is an album you're going to want to a make a point of listening to this year. Go Time! aren't playing like a cover band that longs for the days of vinyl here; they're playing like a modern rock group that wants to reintroduce a bit of vivacity in a dying scene desperately in need of a hero. That hero has been here all along, and can be witnessed firsthand in Midway.
CD BABY: https://store.cdbaby.com/cd/gotime12
Gwen Waggoner