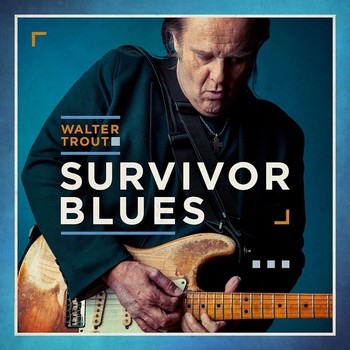 After battling through health issues, WT keeps on trucking with axe in hand.  This is an assembly of classic blues songs other than the same standard popular ones that everyone seems to want to play over and over again.  They all tell a story, blues style.  Walter handles the guitar and vocals along with Michael Leasure on drums, Johnny Gripparic on bass and Skip Edwards on keys.  Guests are Robbie Krieger and Sugaray Rayford (vocals on Woman Don't Lie).
Me, My Guitar And The Blues is a slow storytelling tune with the good old B3 in the background, with both it and the Strat delivering a nicely spooky effect.  Be Careful How You Vote is a good take on the old tune.  The story remains true!  Woman Don't Lie is a nice progressive building shuffle with Sugaray helping out on vocals.  Sadie is the old Hound Dog Taylor song, given new life with some B3 and well paced licks.  Please Love Me gives a little SRV type spin on the BB King song.  John Mayall's Nature's Disappearing takes on a funky, jazz like delivery with some harp.  Red Sun is the kind of song that makes you want to sit in and jam with him on it.  The guitar work here is nicely placed and innovative.  Something Inside Of Me is an Elmore James song that is nicely delivered BB King like.  It Takes Time is a fast moving shuffle piece with some nice piano woven in.  Out Of Bad Luck is a slow progressive blues thing with some nice lead work.  Goin' Down The River featuring The Doors Robbie Krieger on slide guitar, is a slow traditional blues type ballad.  God's Word is another slow tune with some quick licks thrown in.
Regardless of health concerns, the veteran bluesman sounds and plays like someone half his age.  One of Walter's major assets is that he puts his own spin on everything he does, never content to just go through the motions!
By – R.M. Engelman