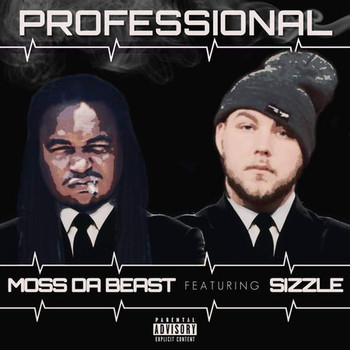 Moss Da Beast is coming out swingin' on the hot, new single, "Professional", with a little help from his friend Sizzle on the mic. Just like a hip-hop Boss, Moss Da Beast is puffin' his chest out and sounding like a Rap Samurai slicin' & dicin' the competition. Moss is not playin' around and keeping it 100 % "Professional" all day, every day!
Moss Da Beast is originally from Chicago but also has ties to Nashville, which makes sense because I picked up on a bit of Southern Swag meets Street Shuffle on "Professional". The track features Slick as Rick beats and an Ice-Cold flow that hits you right from the start. Moss Da Beast and Sizzle have unleashed a lyrical ambush that will take the listeners by storm. Moss was involved with management for years before embarking on a solo career in 2010. With a slew of mix-tapes/recordings under his belt, Da Beast has not looked back once and "Professional" is a strong testament to that fact. This song has a major bounce factor and cool flavor that will immediately draw you in. Just as WWE wrestler, "The Beast", Brock Lesnar" is tough as nails, so to is Mighty Moss entering Beast Mode on the latest installment.
Moss was recently nominated for Album of the Year by Southern Entertainment Awards and I'm not even remotely shocked to hear this exciting news. Moss Da Beast is moving forward with incredible force and not slowing down for no one. Call him the Stoned Cold, Hip-Hop Warrior or "Beastmaster" Money Moss, but one thing is for certain and that is that Moss Da Beast stands by the motto/mentality of Go Big or Go Home. "Professional" will solidify this with a stamp of approval and just like Muhammad Ali will prove that Moss Da Beast is one "bad man"!
https://twitter.com/MossDaBeast
By Jimmy Rae (jrae2@att.net)