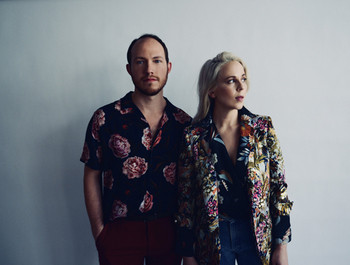 Brooklyn's Savoir Adore have announced their full-length album, Full Bloom, will be released on April 5th. They shared this news with the premiere of the official video for new single "Bloom" via Clash. Additionally, the band will join The Midnight on their European tour, starting February 22nd in Norway and ending with two shows in London on March 5th and 6th.
Savoir Adore released First Bloom in the fall, giving fans the first taste of an album that signifies a new beginning for the band, one that sees founder Paul Hammer solidify his musical partnership with Lauren Zettler. Of the first half of the album, Billboard.com said "Inviting the listener into a synth-filled sonic head trip … the album explores the undeniable chemistry between the duo and their aptitude for pairing velvety beats and feel-good melodies."
In continuing with the theme of new beginnings, Savoir Adore's new single "Bloom" is the centerpiece of the full album.
Photo Credit: Shervin Lainez
Paul says of the song and music video, "'Bloom' represents so much to us – change, discovery, growth, becoming. A lot of times we have visuals in our mind when we're writing songs, and this song really made us think about those who go through deep transformations and change in their lives.